Benefits of Bleaching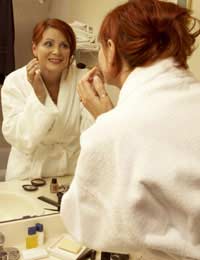 Bleaching is a method of hair removal by which hair is lightened, rather than removed, with the help of chemical products. This makes dark body hair less noticeable and serves the purpose of giving a more hair free look without actually having to remove the hair.
The benefits of bleaching over actual hair removal are many:
Painless
Bleaching does not cause any pain, unlike some methods of hair removal, such as waxing, plucking or epilating. The only cause of discomfort during bleaching can be a burning and itching sensation, which is over as soon as you wash the bleach away. Bleaching is, thus, a great way for those who just cannot bear that intolerable pain.
No Worrying about Hair Re-growth
With bleaching, you don't have to worry about stubble, re-growth of hair, ingrown hairs or any of the usual problems associated with hair removal, because your hairs are still there, but, they are just less obvious!
Convenient and Easy
You can easily do bleaching at home, with bleaching kits available from many health and beauty retailers. The bleaching procedure is also very easy. You just have to follow the instructions given on the packet and prepare the mix accordingly. Then, test it on a small patch of your skin to check there is no adverse reaction. If all goes well, apply the bleach mix to the hairy area, and wash it after 10 minutes or so. It is that simple!
Quick Way to Look Hair Free
Bleaching is a very fast and effective way to get that clean and hair free look. It works almost instantly, so it is the best bet if you are short of time and have to attend a party and you have just noticed some dark hair showing on your upper lip, chin or even your legs.
Affordable
Bleaching is quite affordable, with a 30 ml. pack costing around £4.50, and can be used for several applications on your upper lip. Larger packs of 125 ml. are available if you want to use bleach on larger body areas like the arms and the cost is around £9.50. This is quite affordable, especially if you do it yourself at home.
Best for Dark and Fine Hair
Bleaching works best for hair that is dark in colour and fine in texture. If you try bleaching thick and long hair, it will look all the more prominent and conspicuous, instead of merging with your skin tone.
Very Few Side Effects
Bleaching does not usually run the risk of causing skin burns, cuts, scarring, smelly skin or skin infection if you follow the instructions for use properly. However, for some people whose skin is especially sensitive, it may not be the best option. You will know if this is the case by doing a patch test on your skin with the bleach and seeing if there is any severe skin redness or irritation.
Good for Small as well as Large Body Areas
Bleaching can be done on small as well as large body parts, like the face, neck, legs, arms and the back. The good news is that it is effective for all of them, and takes very little time even for larger areas like the legs.
When you compare these benefits to the cost, hassle and not to mention the pain of waxing, plucking, epilating, etc. you may definitely like to consider this option of hair camouflage...er...removal.
You might also like...
Thanks for the advice, it has changed my view about waxing.
T baby
- 9-Apr-11 @ 2:11 PM