Where to Bleach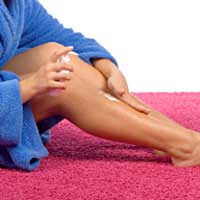 Bleaching body hair is a very convenient way to stop worrying about your dark troublesome body hair without having to actually remove these hairs. Bleaching is extremely popular for treating dark facial hair and unwanted hair on the legs and arms all over the world.
What Type of Hair to Bleach
Bleaching is best for body hairs that are dark and thin. Hairs that are thick and long are not suitable for bleaching because they look all the more prominent after bleaching. Also, bleaching hair on a skin that is too dark will result in the lightened hair ending up looking more conspicuous against the darker skin tone, so, bleaching is best for medium to fair skin tones with dark hair.
Bleaches of various strengths from 'mild' to 'strong' are available to lighten various qualities of hairs on different body areas.
Which Body Areas to Bleach
Bleaching is commonly used to remove body hair from the following areas:
Face
Neck
Arms and Forearms
Legs
Back
Bleaching is most commonly done for facial hair. Dark facial hairs are conspicuous, and can be quite worrisome. Bleaching is a good option for lightening facial hairs so that they are not prominent and need not be removed. What makes bleaching an attractive option, is that bleaching is painless, convenient and affordable compared to other temporary methods of hair removal employed for removing facial hair. Also, there are no hassles of hair removal like dealing with stubble, ingrown hair, and nicks and cuts, with bleaching! Most commonly bleached areas in the face include upper lips, chin, lower lips and sideburns.
A significant number of women who have dark hair on arms, forearms and legs bleach these hairs so that they are not visible. If bleaching suits your skin, this method can be quite convenient and would prove to be superior to other methods of hair removal like shaving which needs to be done almost daily to avoid stubble and re-growth.
Bleaching is also carried out for body hairs that are located in areas from where it is relatively difficult to remove hair, like the back. Bleaching can also be used to lighten stray hair on other parts of the body like the stomach.
Where Not to Bleach?
Bleaching should be avoided for areas near the eyes and eyebrows because the chemical constituents of the bleach are strong, and may have irritating and harmful effects on the eyes.
Bleaching should also not be done on sensitive body areas like the bikini area because of the risk of skin damage and irritation.
One should not bleach if the target area skin is broken, irritated, inflamed or infected or if there has been a previous skin reaction to bleaching.
Lastly, bleaching may not be the appropriate method for people having sensitive skin.
So, bleaching is the ideal way to conceal your dark, unwanted body hair without having to go through the trouble of even visiting a beauty salon and dealing with skin cuts, hair re-growth and stubble. And the added advantage is that it lasts quite a few days too. Try bleaching and see the difference!
You might also like...