Bleaching and the Skin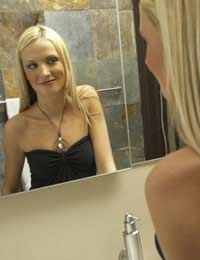 Bleaching is an extremely common method adopted by millions of women across the globe to lighten their facial hair to make them less conspicuous. It works very well for most people, especially those with short and thin hair and pale skin. However, bleach contains strong chemicals, which, if used incorrectly or on sensitive skin, could cause harm.
Every bleach product requires you to test it on a patch of your skin to see if you get a persistent irritation, redness or an allergic reaction. People with sensitive skin are especially prone to these adverse reactions.
Immediate Adverse Effects on Skin
Redness, Irritation and Inflammation
Bleaching causes an intense itching sensation to most people while it has been applied on the skin. But, this disappears as soon as you wash away the bleach. In some people, the skin may become red, inflamed or irritated and blisters, dark marks or eruptions could appear. In these cases, you are advised not to use the bleach on that area again. Such a reaction usually subsides in a day or two. If it does not, you should visit a skin specialist for treatment.
Alteration of Skin Pigment
Bleach works by oxidising the hair pigment. Side by side, it can have the same effect on the skin pigment too, especially if used incorrectly. If you possess a dark skin tone, bleach application may cause temporary lightening of the skin in that particular area for a few hours. Skin darkening is also a side effect of bleaching in several people.
Allergic Reaction
People who have history of an allergy like hay fever, eczema or asthma could be more susceptible to develop an allergic reaction to the bleach, known as urticaria or hives. A clinical study has shown that urticaria, allergic reaction, asthma and even shock (as a reaction to the persulfate activator present in the bleach) have occurred in a few people using bleach for disguising unwanted hair.
Urticaria is characterised by severe itching and the development of red, raised areas or welts in the skin. In most cases, it subsides on its own. Calamine lotion and antihistamine creams facilitate its resolution. But, if you develop swelling of the face, lips or throat, along with shortness of breath, fainting or wheezing after bleaching, you should consider it an emergency and see a doctor immediately.
Long Term Effects of Bleach on Skin
Although there is no clear evidence documenting long term effects of bleach on skin, there have been several reports stating that many women have found their skin to thicken, coarsen and even darken over a period of time after regular use of bleach to lighten hair.
Care and Caution while Bleaching
To prevent adverse effects of bleaching, it is imperative that some caution be exercised during bleaching. It cannot be overemphasised that the instructions accompanying the bleach should be followed accurately. Exposure to direct sunlight should be avoided for the next 24 hours. If the bleach happens to come in contact with your eyes, you should wash your eyes with cold water immediately and thoroughly. You can apply a non-perfumed moisturiser or aloe vera gel to the target area after bleaching it.
You might also like...