Ingrown Hairs and How to Prevent Them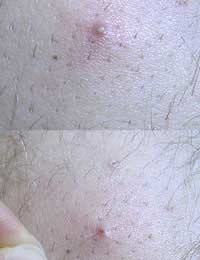 Nobody likes having ingrown hairs, which can be both unsightly and painful. The key to keeping this annoying skin condition at bay is to prevent it from occurring in the first place.
That, however, is easier said than done. Some people – especially those with curly hair - are more prone to having ingrown hairs than others, while some have never suffered an ingrown hair in their life.
The best method of prevention, therefore, is to know what causes ingrown hairs in the first place, what skin type of you have, and whether your own genetic make-up is conducive to this condition. Then you can do all you can to avoid this condition from occurring.
What Are Ingrown Hairs?
Ingrown hairs are individual hairs that either failed to grow completely out from the follicle, or grew a bit and then turned back upon themselves, imbedding their outer end back into the skin.
While most people get ingrown hairs on their face, they can grow anywhere where an individual has hair, but mainly on the neck, legs, arms, underarms and pubic area.
Exacerbated by shaving, ingrown hairs can be red and ugly, and sometimes the tip of the hair is visible. If an ingrown hair gets infected, it can grow into a boil or abscess that may need professional treatment.
Reasons for Ingrown Hairs
As mentioned, people with curly hair and those with thick, coarse hair are more prone to getting ingrown hairs, as the hair literally curls back on itself and becomes embedded in the hair follicle.
But anyone who shaves can also be prone to getting them, as hair that is cut very short – with a razor, for example – is able to pierce the outer surface of the skin more easily, causing this condition.
That's why people more often than not experience ingrown hairs only after they reach puberty. This is the time when pubic hair emerges – which is coarser – and when both men and women start shaving.
The beard area, for example, is a very common place to get ingrown hairs, called "razor bumps" or pseudofolliculitis barbae. Men of Afro-Caribbean descent are more likely to get razor bumps in this area as many as 40 bumps at one time - especially if they shave frequently.
Any place where pubic hair is shaved, such as the bikini area, is also a common area to get razor bumps, which can be exacerbated by waxing and wearing clothes that rub or chafe.
Preventing Ingrown Hairs
Ingrown hairs cannot always be prevented, but you can help reduce the incidence by:
Get rid of coarse hair tips by washing gently with a wet flannel before shaving.
Make sure skin is well-hydrated, and always shave in the direction of hair growth.
Never shave too close to the skin, and if using an electric razor, never press too close. Shave in a circular motion and try to leave a barely discernible stubble, if ingrown hairs are problematic.
Only use hypo-allergenic shaving creams or foams, and avoid anything that contains alcohol, as it can dry the skin, close the pores, and make the condition worse.
Treatment of Ingrown Hairs
Treatment of this condition is fairly straightforward, and in most cases a home remedy is all that is needed. Follow these steps for best results:
Clean the area well.
Try to gently lift out the end of the ingrown hair with clean (sterilised) tweezers.
Don't lift the entire hair, as it can gown back on itself again.
If the hair gets infected, see your GP before it turns into a boil.
Ingrown hairs are not fun, and if you are prone to getting them there are ways to reduce the number you get. If you do get one, try to gently lift it out, and if it gets infected see your GP.
You might also like...