Top Tips for Hair Removal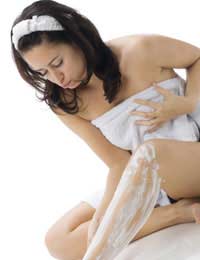 Hair removal is a delicate procedure, and it doesn't take much for it to go wrong. Because of this, many women opt for professional hair removal to ensure that things go as smoothly as possible. Professional hair removal can take several different forms, including waxing, bleaching and electrolysis. If you prefer to go down the DIY route (or simply can't afford the added expense of professional hair removal), this usually involves shaving, home waxing, home bleaching, plucking or home depilatory creams.
Professional Hair Removal
When it comes to removing hair from your bikini line, you might feel more comfortable putting yourself in the hands of a trained professional. The main advantage of having your unwanted hair removed by a professional is that it can be done more quickly and with less discomfort than would be the case if you remove the hair yourself at home. Waxing is the most common way to get rid of unwanted hair on your legs and bikini line, but there are other options open to you. Laser hair removal and electrolysis are two of these.
Finding the Right Professional
There are several clinics in the UK that specialise in hair removal. Look for one that is registered by the British Healthcare Commission so that you can be sure of its legitimacy. In clinics that are not given the seal of approval by the British Healthcare Commission, you run the risk of having someone who is not sufficiently qualified carrying out the hair removal.
Using Tweezers Effectively
Tweezers are usually used to remove hair from small areas such as your eyebrows, nasal hair or the odd dark hair on your chest area. Tweezing and plucking hair is not a permanent form of hair removal, and hair will usually start to grow back within a week.
Using tweezers is not as easy as you might think. If you don't pluck correctly, your skin can become red, inflamed and sore. In some cases, it can also lead to an infection. To avoid this risk, tweezers should be sterilised in hot water before and after use. Wash your tweezers thoroughly in antibacterial soap and water, but make sure that all traces of soap are removed so that your skin doesn't become irritated. To reduce pain, pull the skin taut to encourage the hair to raise up, so that it is easier to pluck. It is usually easier to pluck after a bath or shower, when the heat has opened up your pores. Many fine hairs will come out without discomfort, hairs that are dark and thick may still be a bit painful to pull out.
Other Considerations
If you repeatedly remove hair from the same place, it may eventually encourage the hair to stop growing. In most cases, this is the desired result, but it can be problematic if you keep removing hair from the wrong place, as it can stop the hair from growing back to replace it. If this happens to you, see our article on "Rectifying Hair Removal Mistakes" for more advice on how to deal with this.
You might also like...