Should Pre-Teen Girls Be Allowed to Shave?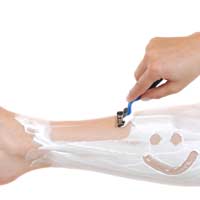 Our society demands that women be clean-shaven, with no underarm hair or abundant leg hair that could be considered unsightly. Women in the UK spend millions of pounds every year on shaving products, on everything from razors to shaving cream to waxing and bleaching accessories.
Female underarm and pubic hair only appears in abundance when girls hit puberty, which for the majority is when they hit their early teens or beyond. Shaving then becomes part of the typical rite of passage into womanhood for most girls, along with wearing make-up and using sanitary towels.
What happens, then, when a pre-pubescent girl is unusually hairy – or when a very young girl begins to hit puberty? Should girls as young as eight years old be allowed to shave – or should their parents make them wait until their peers catch them up?
Why Girls Want to Shave
A hormonal increase is the reason why hair appears around puberty, which means that girls will start seeing patches of hair under their arms, on their legs and on their pubic region. For that reason, most parents believe that their children are ready to shave as soon as they reach puberty.
The fact is, however, that some girls are "ready" to shave when they are in Year 4 – or even earlier - although the majority don't reach for the razors until they are well into secondary school. Girls of Mediterranean and Asian descent in particular have darker hair, which may make them feel unduly self-conscious.
Reasons that girls want to shave include:
Fitting in with their peers
Boosting their self-esteem
Making them not stick out from the crowd
Ensuring they feel comfortable in bathing costumes and shorts
When is the Appropriate Time?
There is no hard and fast rule about when girls should start shaving. You will have to decide with your daughter when the best time is, taking into account your own family values, her maturity – and the amount of body hair she has!
Some parents don't let their daughters being to shave until they start menstruating; others let their daughter make their own decision. That said, if your eight-year-old is constantly being teased about her hairy legs, or if she bundles up during the hot summer months to avoid showing her legs, it might be time to think about shaving.
Keep in mind that waxing isn't recommended for young girls as it can be painful and also there is a potential for skin infections. And if a very young girl is unusually hairy, the cause could be genetic or it could be a symptom of another medical condition. If in doubt, see your GP.
Tips for Shaving
The first few times your daughter shaves she should be supervised at all times. Follow these easy tips to ensure your daughter has the best experience shaving possible:
1. Purchase a shaving gel to be applied beforehand to soften the hair. A fragrance-free shaving gel is preferable as it will reduce the risk of irritation. Soap isn't advisable as it can dry out the skin, and also can increase the risk of cuts.
2. Single-blade razors are better in the beginning as they are safer, although the shave will not be as close. Only use disposable razors three or four times, and advise your daughter never to share a razor with anyone else.
3. Shaving against the direction of hair growth will result in a better shave. Shaving in the shower or the bath is always a good idea as your skin will have time to soften, making it easier to get a clean, close shave.
Remember to let your daughter know that once she starts shaving, she can't really stop. Her hair will grow in thicker and coarser than before, so making the decision to start shaving is really a life-long commitment.
Some girls may prefer using an electric razor instead, which can be safer. Some mums prefer their daughter uses a depilatory cream to get rid of unwanted hair, especially when it comes to the bikini area, where shaving can be even trickier.
Too Young? Not Really
For most girls, dark hair growth on the legs is related to adolescent development – but not all. Some girls develop dark hair when they are still pre-teens – and some even have matching underarm and pubic hair as well.
If your daughter feels overly self-conscious about body hair, it might be time for her to start shaving, no matter what age she is. Removing unwanted body hair is not really about improving a girl's health, it's about helping her to feel better about herself. With this in mind, there really is no set time to begin shaving.
You might also like...
Hair doesn't actually get much thicker by shaving, it's because of the blunt cut or because you are growing up.
Antonymous
- 25-Nov-17 @ 12:03 PM