Shaving My Legs Gave Me Boils: Case Study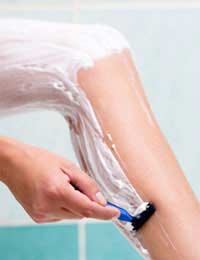 When Victoria Johnson was younger, she used to have her legs waxed from time to time. But as the cost was prohibitive and the results weren't great, she eventually resorted to shaving.
"I liked the feeling I got initially when my legs were waxed, but very quickly the hair on my legs started getting all stubbly," says Victoria, 35, a stay-at-home mum from Norfolk.
"I preferred the smooth, clean feeling you get after shaving, even if it meant you had to do it practically every day."
Only Shaved When Necessary
So Victoria, who has three sons aged five, seven and 12, invested in an expensive razor – but only shaved when she was going swimming or on a beach holiday.
"I figured that nobody really cared if I had hairy legs or not unless I was at the beach or the pool, and as it's such a big investment of time I only shaved when I needed to," she says.
"As my leg hair is also fairly light, I usually only shaved from the knees down as well. It just made shaving a lot faster, and a lot less trouble."
Mini Bikini Wax
But one day Victoria, who asked that her real name not be used for this article, realised a flaw in her reasoning.
"My husband Chris came up to me one day after we had a family holiday to Center Parcs, and told me that he could see tufts of hair peeking out from the back of my swimming costume at the tops of my thighs. Basically, it was pubic hair that I hadn't realised was visible.
"I never really thought about shaving that high, except twice when I still used to wax and had a full bikini wax done.
"So I decided that next time we went swimming that I'd shave all the way up, basically doing the equivalent of a mini bikini wax in the back."
First Signs of Boils
Victoria began to swim once a week with a friend, and as promised, started shaving up near the tops of her thighs. The area felt smooth and hairless, but after the third week of shaving, Victoria noticed that something wasn't quite right.
Instead of a smooth and hairless area, she felt three hard lumps in the inside of her thigh.
"First of all I panicked, thinking the lumps were something sinister. Then I realised they were simply ingrown hairs that had become infected because of shaving. They got worse when I wore trousers, as they rubbed on the area when I walked and made them more inflamed.
"Basically, I had given myself three boils – without even being aware of it!"
Also known as skin abscesses, boils start from deep within the skin. They often start when a hair follicle becomes infected, getting red and irritated before filling up with pus. Sometimes the pus hardens underneath the skin, and the boil becomes hard and difficult to get rid of.
If a boil becomes severely infected, it can be accompanied by a fever and your lymph nodes may become swollen. In most cases, however, boils never get that serious, and can go away on their own with proper care and attention.
Getting Rid of Boils
Victoria felt embarrassed and didn't know what to do about her boils, so she visited her pharmacist. "I just told him that I had boils on my legs – somehow talking about thighs sounded much too personal - and he recommended that I used Magnesium Sulphate Paste daily to draw the pus out.
"It cost a few pounds for a small jar, and I put it directly on the boils a few times a day. It made them feel warm and gradually they shrunk in size. It took almost a month but it worked.
"It was all a bit disgusting, and the lesson I learned from all this is that as I have sensitive skin, there are some places I just can't shave. Also, I learned to live with a bit of hair on the backs of my thighs – I'd much rather have a bit of hair than boils."
You might also like...