Why Hair Threading Works for Me: A Case Study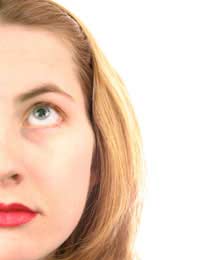 Anne Gilbert was used to having her eyebrows professionally plucked every two or three months, and thought she'd continue indefinitely. But then the 38-year-old teacher from Surrey discovered threading - entirely by accident - and it revolutionised her life (or at least, her eyebrows).
"For many years now I plucked my eyebrows every time I got a haircut, which was every two or three months. I have always been too lazy to do it myself on a regular basis and I really like how it looks when they do it professionally," she says.
"Having my eyebrows done by a professional looked tidier and more appealing than when I plucked them, especially as when on the rare occasions I did it myself I always missed a hair or two. But plucking your eyebrows hurts, even when someone else does it. To be honest, it's not a lot of fun but the end result somehow made it all worth it."
Possible Skin Damage
Anne decided to put up with the discomfort, but was glad when she could forsake plucking for something else. "For a while I was going to a salon and having them do it with wax, which is quite painful as well. And I began to worry that it might leave some permanent damage on my skin, which is quite fair." While waxing cannot hurt your skin when done correctly, there is always the risk of burns or infection when done by a beauty therapist with little experience. And some methods can traumatise sensitive skin as the top layer of the skin can get inflamed or peel off.
Then one day Anne wandered into a beauty salon, looking for a raffle prize for her children's school for their next fundraising event. "I went into the salon completely by chance. The woman who worked there said she could offer a complimentary eyebrow thread as a prize, which is something I had never heard of," Anne recalls.
"I told her I had had my eyebrows plucked and waxed in the past, and she told me to stop. She said that with threading the technique is a lot simpler, takes less time and has better results."
A Greener Method
Anne was told threading was an age-old practice that dates back hundreds of years ago to Persia or India. "They take pieces of cotton wool, or thread, and shape the eyebrows. The beauty therapist added that it cost only about 10 quid, which is roughly what I paid for my waxing treatment, but said it was less damaging to the skin and better for the environment as it uses less chemicals than waxing does.
"It sounded good to me, so the next time I wanted my eyebrows plucked I went to her and had them waxed instead. The woman took out a a piece of cotton thread, the kind you use to sew with, and attacked my eyebrows.
"She takes a thread, wraps it around her fingers and threads it through your eyebrows and takes off the extra hair. It's kind of artistic, actually, if you can imagine someone shaping your eyebrows with a thread, not scissors. I would never let anyone do this who hasn't practised a lot before!
"It took five minutes, which is a bit shorter than waxing, which takes about 10 - 15 minutes, and it hurt a bit but less than waxing. But the result when I looked in the mirror was exactly the same."
Next Stop: Bikini Line?
The result, according to Anne, was that her eyebrows looked great, just the way they did with waxing, but she felt a lot better about the experience overall. "It was faster, greener and it's not going to hurt my skin. So it's a win-win all around. The price was no different, which was another thing that can make it more appealing."
Her next foray into new beauty treatments, Anne says, is that she might have her pubic hair threaded. "I can't imagine you can do threading to your legs because it is such a large area, but surely the bikini area would be perfect, as threading shapes things.
"I think I have heard that you can thread your pubic hair rather than getting a bikini wax, and that it has fantastic results. I am not sure how I feel about that but I will certainly give it some thought."
You might also like...