About Laser Hair Removal Patch Tests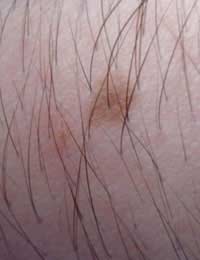 If you are considering having any type of laser hair removal, the first step in the procedure is to talk with a qualified practitioner. He or she will explain what the process involves, and help you decide if this is the best hair removal solution for you.
If you decide to go ahead with laser hair removal, the next step will involve a patch test. This is kind of like a mini dry run, which will help the practitioner decide how to proceed in the safest, best and most practical way possible.
ABCs of Patch Tests
Once you have decided to have a laser hair removal patch test, you will probably choose a small area that is not very visible, such as on the back of the leg. The test will check a number of things, the two most important being:
What strength laser energy to use to get the best results. The laser energy needs to be suited to your hair and skin type for optimal effect. People with darker skin, for example, benefit from longer wavelength devices, while fair people with dark hair and no suntan often have the best results.
What adverse reactions you might have to laser hair removal. This can include pigmentation change and scarring, although the latter is more often than not the result of an unskilled practitioner.
Please keep in mind that some of the redness is common after having laser hair removal, although this will usually fade within an hour or so. If the redness persists, it's a good idea to find out why before going through with treatment.
Skin blistering can also sometimes occur with laser hair removal, although this is rare. While many people assume this is a "laser burn", blistering is actually a not uncommon side effect that usually clears up on its own without any permanent scarring.
Check Your Pain Threshold
A laser hair removal patch test will also give you a taste of what the actual procedure will be like, so you can feel what will actually happen on the day and discover whether it will be painful or uncomfortable for you or not.
Most people say that laser hair removal feels like the snapping of a rubber band on the skin, while others say the feeling is incredibly mild.
With this in mind, some people like to take a mild sedative or over-the-counter pain reliever before having laser hair removal, and a patch test will help you determine whether this is necessary. You might even decide that shaving and waxing is a better option!
Not For Everyone
Laser hair removal does not work on everyone, which is why everyone is advised to have a patch test carried out before they agree to treatment. It is advisable to wait two weeks after having the patch test done before beginning treatment.
Some centres or salons offer free patch tests, others charge roughly £25 – or more. If the salon you visit insists that a patch test is not necessary, or tries to pressure you into signing on the dotted line before having one, go somewhere else.
You might also want to check if the person carrying out the patch test will be the same person performing the laser hair removal, especially if there are special issues to take into consideration which you have discussed with them at any length.
Laser hair removal can provide a permanent solution to the problem of unwanted hair, and when done properly, can revolutionise a person's life. Just make sure you only visit a qualified, experienced practitioner, who does all he or she can to individualise the experience to your own personal needs to get the best results.
You might also like...