Melanin and Laser Hair Removal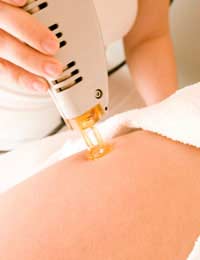 Many people don't realise it, but the colour of your hair and skin and have a profound effect on whether laser hair removal is a successful solution to the problem of unwanted hair or not.
Colour also plays a pivotal role in what strength of laser energy to use, which can determine whether or not you experience adverse side effects from laser hair removal.
The culprit behind all this is melanin, a naturally occurring pigment that is found in both our skin and our hair that also helps protect us from the harmful UV rays of the sun.
While we all have in our skin roughly the same level of melanocytes, or the cells which produce melanin, some ethnic groups have a greater concentration of melanin, which makes the skin darker.
Melanin and Lasers
Laser hair removal, which can eventually be permanent, works through a series of laser treatments. The laser energy is absorbed by the melanin which is naturally present in the hair follicle, as the part of the follicle that is responsible for hair regrowth is surrounded by melanin.
The darker the hair is, the more melanin it has - and the better it responds to the laser energy. When enough of the laser heat is absorbed – usually through a series of repeat treatments – the follicle is permanently damaged, and the hair ceases to grow.
Keep in mind that laser hair removal will only work when hair is in the anagen, or active phase of hair follicle growth. As all our hair does not all enter into one phase at one time, repeated treatments are required.
Best Candidates for Laser Hair Removal
As melanin plays the biggest role in the success of laser hair removal, it naturally follows that some people are not good candidates for this procedure. See what may apply to you:
Light skin, light hair. If your hair is lighter than the skin that surrounds it – if you have a deep tan and very blonde hair, for example –then the laser can actually end up burning your skin. People with a tan – either real or fake – are advised to wait several weeks at least before having laser hair removal.
Dark skin, darker hair. This is the most effective combination. Pulses of laser light are used as the skin is a larger surface area than the hair, and will cool faster. Using pulses of light, along with a cooling agent on the skin, will allow hair follicles to heat up to the required temperature.
Blonde or white hair. Traditionally, laser hair removal has not been a viable option for those seeking to get rid of white or blonde hair, which would usually grow back after being treated because of the lack of melanin in it. Today, however, there are several lasers which target lighter hair, such as the Epilight and Electro Optical Synergy (ELOS) systems.
Laser hair removal can be an effective solution to get rid of unwanted hair, and can be carried out in virtually all parts of the body, including the face, neck, back, arms, legs and intimate areas. With repeat treatments, both men and women can see permanent hair removal of up to 60 – 95 per cent, depending on the individual.
In the past, blonde and white hair were not considered suitable targets for laser hair removal because of the lack of melanin in them. But advances in technology mean that virtually any type of hair can be removed using this procedure.
If you are interested in laser hair removal yourself, make sure you visit only a fully qualified and experienced practitioner, who insists on doing a patch test beforehand to ascertain the best level of laser energy to use, and if you experience any adverse side effects. It might be worth contacting your GP for a referral.
You might also like...