Laser vs. Electrolysis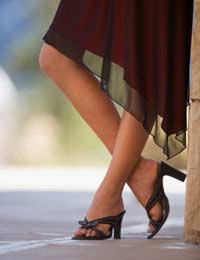 Electrolysis and laser are the only two techniques by which body hair can be removed permanently or for a longer period. Everyone who wants to get a permanent hair removal has to make a decision between laser hair removal and electrolysis. Accurate knowledge and information about these two procedures is a pre-requisite for making a wise decision regarding a hair removal technique which best suits your needs.
A study on 'Comparison of alexandrite laser and electrolysis for hair removal' by Gorgu M et al in 2000 showed "the average clearance rate of the hairs was 74% by laser and 35% by electrolysis 6 months after the initial treatment". The conclusion of the study was that "Laser hair removal is more expensive than electrolysis, but is 60 times faster and less painful than electrolysis; also fewer sessions are needed, with better results".
Many factors need to be taken into consideration when choosing between laser and electrolysis. Laser hair removal and electrolysis differ, mainly, in duration of treatment, degree of pain, outcome, cost of treatment and potential side-effects.
Expected Outcome
Electrolysis is the only method of hair removal which has been proved to be permanent, whereas laser has been scientifically proved and labelled to be only a 'permanent hair reduction' method. This implies that you can be sure of a complete and permanent hair removal only through electrolysis. So, if getting a complete hair removal, permanently and with negligible hair re-growth, is your chief objective, you should opt for electrolysis.
Laser hair removal is accompanied with some re-growth in most cases, whereas the re-growth after a complete course of electrolysis is usually negligible. Laser, being a new procedure, the re-growth observed with it over a period of many years has not been studied.
Duration of Treatment
Laser hair removal is considerably faster than electrolysis. For example, one session of clearing hair from the upper lip may take around 1-2 minutes by laser and 15-30 minutes by electrolysis. The number of sessions required for any body area is also much more in electrolysis than laser. This is because electrolysis targets a single hair follicle at a time, whereas laser acts on hundreds of hair follicles at the same time. With laser, 4-6 sessions of 15-45 minutes each, on an average, yield extremely good results for medium-sized body areas like the forearms.
The Pain Factor
Electrolysis, being invasive, is much more painful than laser hair removal, which is a non-invasive technique. In electrolysis, a fine needle or probe is inserted into the base of the hair follicle to destroy each hair, while laser employs light energy which destroys a large number of hair follicles at once. During laser hair removal, a heat and stinging sensation is felt like a 'band snapping against the skin', so, this procedure is also not completely pain free. However, this pain is negligible compared to the pain felt during electrolysis.
Cost of Treatment
A single laser hair removal session may seem very expensive, but, when compared with the cumulative cost for a large number of electrolysis sessions over a period of years, the cost is much less.
Body Area
Keeping in mind the duration of treatment, electrolysis is considered to be best for treating smaller body areas, as even this may take a year. For larger body areas like the back, legs, etc., laser hair removal is preferred. Laser can not be used for areas near the eyes as it is damaging for vision, therefore, electrolysis is the preferred way of permanently shaping eyebrows.
Colour of Hair and Skin
Laser hair removal works best for the combination of dark hair and fair skin. It is not effective for grey, blonde, red or white hair. In such cases, electrolysis is the only option for lasting hair removal as it is effective for removing all colours of hair. On the other hand, stubborn and coarse hairs are more difficult to remove by electrolysis as compared to laser.
Possible Adverse Effects
If performed by a trained professional, serious side-effects are rare with either of these methods of hair removal. However, laser, sometimes, causes patches of hypopigmentation and hyperpigmentation which usually take a few months to resolve. Permanent pigment alteration is rare. Electrolysis, if done incorrectly, may cause skin pitting and scarring, which is why it is not a preferred method of permanent hair removal from the face. You should discuss the potential adverse effects that may occur in your case with a specialist as these may depend on the individual also.
Since laser hair removal is a new technique, the possibility of serious, long-term adverse effects of technique has not been explored.
An upcoming option that may gain popularity in the coming years is to undergo laser hair removal and follow it up with a few sessions of electrolysis to permanently remove the re-growth appearing after laser treatment.
In a nutshell, electrolysis is a tedious, time-consuming and overall, costlier than laser, but, the greatest advantage with electrolysis is that you don't ever have to worry about body hair in the future. On the other hand, laser hair removal is a widely sought-after method of long-lasting hair removal due to its sheer speed and efficacy. It is a revolutionary method which can change the lives of millions worldwide, as it is an effective solution for removing hair not only from small body areas, but, large body areas too for which electrolysis would be an impractical option. So, you should weigh the two options yourself as the choice is finally yours!
You might also like...
I prefer the electric epilatorKarmin =)
judithsch
- 15-Jul-16 @ 5:25 PM