How does Laser Treatment Work?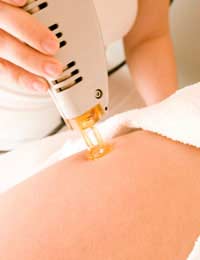 There are many options available when it comes to choosing a method for hair removal. However, if permanent hair removal is what you hope to achieve your options are actually quite limited. One viable choice for permanent hair removal is laser treatment.
What is Laser Hair Removal Treatment?
Laser hair removal treatment is the use of laser light to destroy and remove hair growth on the body. The word LASER stands for Light Amplified by Stimulated Emissions of Radiation. In this technique the laser emits a light with a predetermined wavelength. The light targets the melanin in the hair follicle and breaks down the follicle so new hair growth is slowed or stopped. The laser can be used to treat numerous hair follicles at the same time but the light only affects hair that is in the growth phase of the hair cycle. Because of this you will need multiple treatments, four treatments are usually necessary to see noticeable hair growth reduction, in order to treat all of the hairs in different growth cycles.
Once an area has been treated with the laser it can take up to fourteen days for the destroyed hair to fall out. Exfoliation of the area helps speed up this process and removes dead or dried out skin cells in the area that can hold onto treated hair.
What Are the Side Effects of Laser Treatment?
Since the laser targets the melanin in the hair follicle it can also damage the melanin in the skin. After laser treatment the skin will be sensitive and irritated for a few days and it is not uncommon to notice some slight swelling or redness in the treated area. In some instances the side effects can be more serious and include burning, peeling, or blistering of the skin and even slight loss of skin pigmentation and skin discolouring. These side effects are rare but their occurrence should be discussed with your consultant before beginning treatment.
What Areas Are Best for Using Laser Treatment?
Since laser treatment is used to treat more than one hair follicle at a time it is a good choice for hair removal on large areas such as the legs, back, chest, arms, and shoulders. Laser treatment also works best on darker hair since it contains more melanin.
Things to Consider before Getting Laser Treatment
First, laser treatment is not as effective for permanent hair removal as other options such as electrolysis. Since electrolysis kills each hair follicle individually the success rate of this method is higher. Also for lighter hair, hair on the face, or for darker skinned individuals electrolysis is a better hair removal option since it does not rely on or affect melanin.
Second, laser treatment can be painful to some people. The treatment mimics the feel of a rubber band being snapped across the skin. If the sensation is too painful to be tolerated a numbing cream can be used to treat the skin and help lessen the discomfort.
If you are considering permanent hair removal the best option is to schedule a consultation with a practitioner and discuss all of your option before deciding which hair removal methods will work best for you, your hair type, and your skin.
You might also like...