Different Types of Bikini Waxes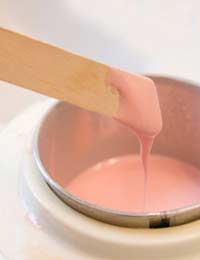 Whether you want to look tidier in a bikini or surprise your partner with a svelte new hairless look, the best way to appear sleek and smooth is with a bikini wax. These days, not surprisingly, there are a variety of interesting and varied types to choose from...
Regular or American Wax
A regular wax is for people who want to remove all hair that could potentially protrude from their swimming costume. They are great for women who just want a quick tidy-up, or for those planning a beach holiday or who want to get their legs and bikini area waxed at the same time.
Remember, bikini waxes are not just for the fairer sex, although the vast majority of people who opt for a haircut "down there" are women. Some men, especially those who like Speedo-type swimming costumes, also opt for waxing. If you are male, make sure you ask your preferred salon if they do both sexes before booking an appointment, as not all do.
Full Bikini Wax
A full wax is for women who want to take off a bit more hair than a regular wax, and perhaps give their pubic area a bit more definition. Basically, about three finger-widths of hair are left directly above the vulval area. Sometimes the hair is cut to promote a triangular shape.
French Wax
All the hair is removed in front and towards the back of the bikini area, but unlike a Brazilian the hair in the back, or near your bottom, is left intact. Not necessarily a bad thing, as getting rid of the hair there can be the most painful aspect of all!
Brazilian Wax
The infamous Brazilian wax reportedly got its name from a group of sisters from Brazil who brought the treatment over to the US. It has been made popular worldwide thanks to Samantha in Sex and the City, who opted for one having found one grey hair too many...
It is accomplished by removing hair from the front, back and all bits in between, leaving the client a smooth, peach-like area in its place. Usually a small strip of hair is left in the middle, cleverly dubbed a "landing strip".
While the Brazilian is gaining in popularity, it is not an easy procedure to withstand. It is advised to trim your hair to about ¼ or ½ inch before you wax, and not to swim or sunbathe at least 24 hours before you have it done.
Playboy Wax
Similar to the Brazilian, this wax leaves a smaller vertical strip of hair, often just a thin line.
The Sphinx
Known as the Full Monty of all waxes, this leaves the area completely bald. Gives new meaning to the phrase "Bald is Beautiful."
Top Bikini Waxing Tips
Having a bikini wax is not particularly pleasant. But it shouldn't be all that unpleasant either. The more experience a waxer has the faster the procedure will be, which means less pain and discomfort for you. Follow this tips to make the experience as smooth as possible (no pun intended):
Wait until you have enough regrowth to warrant a wax. Nothing is more excruciating than tying to wax out short, stiff hairs that are unlikely to budge easily.
Give yourself a trim, if needed. If you have unusually long hair in areas, cut it off yourself first.
If you have an unusually low pain threshold, pop some paracetamol or ibuprofen 15 minutes before your visit, to make things a bit easier on yourself.
Don't be surprised if you have red bumps or ingrown hairs. If you are prone to either – or both – of these, ask your waxer what you can do to minimise them.
Avoid embarrassment by not feeling embarrassed. The people doing your bikini line have been there and done that. There is virtually nothing they haven't seen before. Just lie back and think of England... or your next holiday in the sun!
Points to Consider
A bikini wax is not for the squeamish – or those easily embarrassed. You will be asked to disrobe down to your knickers, although in some cases you will be asked to get completely naked. Your hair will be trimmed, waxed and tweezed, with cream spread on waxed areas. If you like the results, make a note of the waxer's name so you won't feel like you're revealing all the second time around!
As with all waxing, if you suffer from psoriasis or similar ailments, are diabetic or take certain types of acne medication, ask your doctor first.