Professional Waxing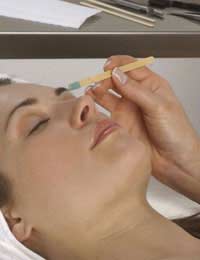 Waxing is a very suitable option for removing hair from large hairy body areas like the legs, arms and back and even for facial hair like hair on upper lips. It is a highly recommended temporary way to get rid of body hair even for men. If you feel you would not be able to do a good job by waxing your body hair yourself at home, or you would like to lie back and relax while you get the job done, we suggest that you try a professional beauty salon for waxing. Professional waxing is also a good idea for first-timers with waxing.
How is Professional Waxing Done?
Professional waxing is done by a qualified aesthetician at a beauty salon. You should always get it done at a beauty salon that has high standards of quality and hygiene, and well-qualified and experienced professionals for carrying out the waxing.A qualified aesthetician first dabs the area with talcum powder, then, applies the hot wax with the help of a wooden applicator on the target area, firmly presses a muslin strip over it and, after a few seconds, rips it off with a quick movement. The hairs come off sticking to the strip, and a soothing lotion is applied after cleaning the area.
Common Body Areas for Professional Waxing and Cost
Facial Hair
A large number of women regularly visit a beauty salon for getting their facial hair professionally waxed. Eyebrow shaping and removal of hair on the upper and lower lips, and chin are the most commonly performed waxing procedures for facial hair at a salon.
The cost of waxing the upper lip ranges between 5-8 pounds at most beauty clinics, and the cost of shaping and removing extra hair from the eyebrows varies between 5-10 pounds, depending on the price range of the salon. A combined upper lip and chin hair removal would be priced at 8-12 pounds, and a combined eyebrow shaping and upper lip hair removal would cost you about 9-12 pounds, varying between different beauty salons.
Hair removal from the upper lips by waxing takes just 5-7 minutes, and eyebrow shaping by waxing is a matter of just about 10-15 minutes.
Leg Hair
The prices for hair removal from half-legs range between 10 to 12 pounds, and the cost of full-leg hair removal is about 15-18 pounds. Hair removal from legs is a very frequently sought-after service at most beauty salons, and takes 1/2 hour for half-leg hair removal, and about 40 minutes for full-leg hair removal, depending on the deftness and experience of the professional.
Arm, Forearm and Underarm Hair
Underarm hair removal takes just 5-7 minutes and costs 5-8 pounds. Hair removal from the full arms costs about 10- 15 pounds and the price for forearm hair removal ranges between 8-10 pounds. Removal of hair from the arms takes about 20-30 minutes, and gets you rid of the worry of removing hair for 3-6 weeks.
Chest and Back Hair
Hair removal from the full chest or the back costs between 15-20 pounds and takes around 30-40 minutes, the time taken also depending on the hair density. The cost of a tummy wax is about 10 pounds.
Bikini Hair Removal
Bikini hair removal by waxing is commonly performed and costs about 10 pounds.
Thus, hair removal by waxing can be easily and conveniently done professionally without costing too big a hole in your pocket, especially if you get it done from a good, reasonably priced beauty salon.
You might also like...