Getting Your Back or Chest Waxed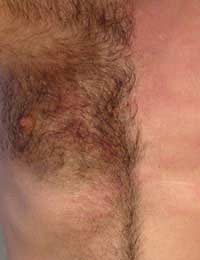 If you're fed up with looking like you have a furry rug glued to your chest, it might be time for a chest wax. Once assumed to be purely the domain of male models and narcissists, having your chest (and/or back) waxed is now considered a common male grooming ritual.
For some men with excessive chest or back hair, a regular wax makes a lot of sense. In fact, it's estimated that as many as one-third of all men get rid of hair from parts of their body apart from the face regularly – so why not try a hot wax yourself?
Getting Smoother Skin
If you are a chest/back wax virgin, don't try waxing yourself at home! It will not only be painful, but you also won't be able to accurately see what you're doing. When it's over and done with and you see the results of your handiwork, you may regret it.
Saying that, start as you aim to go on. If you wax once (in a salon), you'll no doubt be hooked. Hair that is waxed at the root will grow back less thick and coarse, and be easier to maintain.
If you decide to go for a salon wax, plan to have a second one within eight weeks. And so on, and so on…You'll be waxing addict before you know it!
Waxing is a lot kinder to your skin than depilatory creams and shaving, and there will be no stubble left behind. The wax also works in much the same way an exfoliant does, which means removing all the dead skin cells on top, so your skin will feel infinitely smoother and sleeker.
Men who are covered in body hair will also discover that once some of it is removed, their muscles will look better defined (if they had any to begin with). It is also easier to get a tan when there is not thick layering of fur blocking out the sun…
Don't Try This at Home
For chest and back waxing, it's best to leave it to a professional, although many men have great results when waxing pubic hair or armpit hair at home. Don't be embarrassed to book an appointment at a salon. If the idea makes you uncomfortable, ask a friend to recommend one where men are welcome.
At the salon, the beautician will ask you to take your shirt off and lie down on a special treatment table. The wax used will be warm, and will be applied using an instrument very similar to a spatula.
Small strips of cloth will then be put on the area, left for five to ten seconds, and then pulled off against the direction of hair growth. It goes without saying that it will sting a bit, but after the first few pieces of cloth are pulled away, you will adjust and it will start to hurt less.
The beautician will normally start in the centre of the back, moving downwards and then back up. Certain areas will be more sensitive than others, such as higher up areas near the neck. Whether the sting is barely tolerable or just a mild annoyance is up to the individual.
A full back wax shouldn't last longer than about 20 to 30 minutes, as will a chest wax. The session will last longer or shorter depending on the amount of hair that needs to be removed. When the wax is over, a light astringent will be applied, such as tea tree oil, and then you're free to go!
Top tips
Here are some tips to getting the most from a waxing session:
Don't expose areas that are to be waxed to the sun, or take a very hot shower, for at least 24 hours before your session.
Hair growth will be noticeable within a few days, and the waxed area may begin to itch. This is normal, especially after your first wax. When the hair begins to grow a bit longer it will itch a lot less.
Avoid applying gels or soaps to waxed areas for a few days, as you may be more prone to getting spots at this time.
Certain medications, such as those used to treat acne, can make the skin more sensitive to waxing, so you may want to ask your GP first if you are taking anything.
Hair will need to be at least one-quarter of an inch long for waxing to work, so if you have been shaving your back and/or chest, you may need to wait for hair regrowth before waxing.
Getting rid of hair on the chest and back areas is an entirely personal decision, as is whether you believe that being ultra-hairy makes you look like a beauty or a beast. If you do want a chest or back wax, however, make sure you do it right – at a licensed salon where hygiene standards are top quality. Good luck!
You might also like...