Eyebrow Shaping: Get the Brows You Want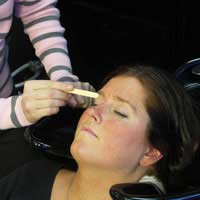 It's a fact: perfect eyebrows are key to having the perfect face. Having expertly shaped brows not only frames your face and shows off your eyes, but also demonstrates to the whole world how well-groomed you are. Overly bushy brows, eerily thin ones or even a monobrow can ruin your whole look, no matter how much you spend on cosmetics and clothes.
Getting the right eyebrows for your face is more than a chore, it's an art. But how do you know whether you are doing it right, or are on your way to a plucking disaster? Decide which method is right for you, then learn how to do it right.
If all else fails, go to a salon – you only need to have your brows shaped once every few months and as far as pampering treatments go, this is one of the cheapest – and one that can make a drastic difference to the way you look.
Plucking
Get a decent pair of tweezers and ensure you are in an area where there is enough light. Cleanse your skin well beforehand, and concentrate on getting a good arch. Leave enough space between your eyes and make sure you pluck in the direction of growth. Tweeze from top and bottom and assess your handiwork after every few plucks.
ADVANTAGE: It's the cheapest method, apart from buying some good tweezers, and you can always have it done professionally once then do it on your own forever after, following the lines made by the pro'. Saves time and money!
DISADVANTAGE: Can be boring to pluck your own eyebrows and it is entirely too easy to miss a few stray hairs or even end up with a lopsided look. And remember, if you over-pluck it can take many months for those valuable hairs to grow back.

Waxing

Not the cheapest option but usually works a treat – if you go to a professional. It only takes about 10 minutes or so to have the warm wax put over your brows, then pulled off. If you want to try it at home, cleanse the area and apply an astringent first. Warm wax in boiling water, making sure it is not too hot, then apply small amount to area in direction of hair growth. Don't let wax dry, then pull off. Be prepared for pain!
ADVANTAGE: You can get a good shape, it's painful, but the pain is fleeting, unlike plucking. You can always fill in bits that have been overly waxed with an eyebrow pencil, which is not ideal but adequate to cover up mistakes.
DISADVANTAGE: Can be very painful and is not recommended for people with overly sensitive skin.

Threading

Eyebrow threading is said to last longer than many other shaping techniques as it removes the hair follicle by follicle. Simple and precise, it involves twisting a simple piece of cotton wool, or thread, into a double strand and then taking away the entire line at once. Is quicker than other forms of eyebrow hair removal and is thought to have originated in either Persia or India, where it is popular among Bollywood stars.
ADVANTAGE: As an entire hair line is removed in one go, people with bushy eyebrows or a monobrow will find this gives a more precise finish than other forms of eyebrow hair removal.
DISADVANTAGE: Cannot be done at home unless you are very skilled. Works best when done by someone other than yourself who can see the hair line that needs to be removed.

Top Tips for Beautiful Brows

If you decide to wax, pluck or thread yourself, follow these tips to get a great shape...

Ascertain where your brow will begin by holding a ruler parallel to your nose, exactly level to the eyes' inner corners.
Make the gap between brows wider if your eyes are close together.
Regardless of what method you use, always take off hair in direction of hair growth.
Cleanse area first and keep clean afterwards to avoid any infection.
You will know you have the perfect shape when the brow begins in alignment with the centre of your nostril, and the arch of the brow is aligned with the back one-third of your eye.
If in doubt, ask a professional to show you how to do it.

Shaping your eyebrows can be both technical and tedious, but the results are well worth the time and effort. Both men and women these days seek to have well-defined and shapely brows, and they certainly do alter the appearance of the face in general. It's all a case of trial and error, but before you know it you'll soon have the perfect eyebrows you deserve!

You might also like...