Top Six Steps to a Perfect Shave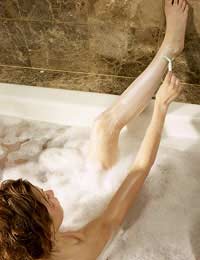 Both men and women shave, men usually concentrating on their face with women paying most attention to their legs and underarms. While most of us feel we know how to get the best results possible, all too often we are left with rashes, stubbly patches and those dreaded ingrown hairs. How can we get the best shave possible, leaving us looking as sleek and svelte as we humanly can?
Top Six Steps
Let's face it: shaving shouldn't be all that difficult, and most of us should know how to do it properly by now. Yet how often do we cut ourselves, are left with a graze or just not look as good as we could after shaving? Follow this guide, designed for both men and women, to get the perfect shave you deserve and look great after every bout with a razor:
Step One: Buy the Right Shaver
Use one that is clean, sharp and has not been used too many times before. Buying multi-packs of cheap razors is often a false economy, unless you want to pay for rashes or have to throw away a razor after each use – or even before you've finished your first shave with it! For women, ones with several blades and aloe strips usually work best. If you are using an electric razor, read up in consumer guides beforehand to see which is the best.
Step Two: Prepare Your Skin
It's no use starting to shave before you have time to get your skin ready. Either lounge about in a hot shower or bath first if you're female, or have a shower or soften your face with a very hot towel to make sure your bristles are adequately softened if you're male.
Step Three. Work Up a Lather
Using the right stuff is important as not enough of a lather will leave your skin dry and unprotected. Your skin will need to be sufficiently lubricated to allow a razor to glide effortlessly across it. If you don't allow for a proper lather, you will see the results of your mistake when your shave is over. Invest in a good quality soap or shaving cream - it's worth it.
Step Four. Shave in Direction Hair Grows
Women in particular make this error far too often when shaving their legs, and it means that the end result is less than perfect. Men should begin where the sideburns are and carefully glide the razor towards the chin, when they get to the beard let their fingers be your guide as far as growth is concerned. Women should make sure they don't leave any area out, especially areas hard to reach. When shaving bikini lines, pay close attention to direction and make sure blade is especially sharp. If you leave this area for last and the razor is blunt, get out a new one.
Step Five: Be Gentle
The importance of not rushing cannot be underestimated. You might save five minutes by shaving your legs quickly to make an appointment on time, but if you are rough you may be paying the price for weeks afterwards.
Step Six: Finish with the Right After-Products
Rinse face and body with cool, clear water to open pores and discourage razor burn and apply an astringent on the face for men and the right moisturisers on the legs for women to rehydrate and refresh. Avoid wearing deodorant, if possible, if you have suffered any grazes or nicks while shaving the underarms. Use a good antiseptic cream if you do, even after all this advice, suffer any ingrown hairs.
Top Tips to a Perfect Shave
Men might want to buy a badger brush to apply shaving lotion and make sure their faces are adequately covered before they begin with the blade.
Keep in mind that expensive products are not always the best. Women can shave their legs well with an inexpensive hair conditioner, one that can work up to a creamy lather, while baby oil works well as an after-shave moisturiser for smooth, shiny legs.
Sometimes hair grows in two directions on certain parts of the legs, for example. Make sure you check before you start shaving.
Men should buy a specific astringent as most cologne-based after-shaves contain alcohol and should not be applied directly on the face. Use them only on chest and sides of neck.
Getting the perfect shave can be a lot easier than you think, if you take your time and prepare well. Follow these six simple steps and soon they will become second nature. Remember, you're only as smooth as you feel...
You might also like...