Rectifying Hair Removal Mistakes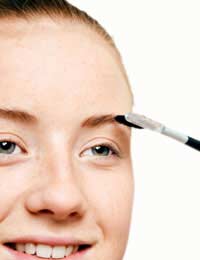 Many popular hair removal techniques, such as waxing, plucking, and electrolysis, focus on taming and shaping the hair of the eyebrow. After all, well-shaped eyebrows can define your face and put the focus on your most beautiful features. However, since some of these techniques are quite complex and many methods make it too easy to accidentally remove too much hair most women are faced with the dilemma of fixing uneven, too thin, or completely eradicated eyebrows numerous times in the course of their life.
The best way to avoid this eyebrow hair disaster is to stick with the hair removal techniques that you are most comfortable with or sufficient in. But, if the unimaginable does happen and you remove too much hair you need to know the best and most effective methods for fixing the mistake.
Rectifying Eyebrow Hair Removal Mistakes at Home
Eyebrow pencils contain makeup that is similar to eye or lip liner. These pencils can help you quickly fill in bald spots or uneven areas of the brow because they are easy to use and apply. However, if you haven't used an eyebrow pencil before or if the area to fill in is too large, this technique can end up looking fake and harsh. To get the most natural look from an eyebrow pencil start with a colour shade that closely matches your existing brow hair. Next, apply the makeup in short, quick strokes that resemble the shape and size of an eyebrow hair following the basic shape of your natural brow. Stop frequently to compare your progress to your other brow to ensure evenness and symmetry.
Since controlling the thickness and length of eyebrow pencil marks is too difficult for most people many individuals prefer to fix their eyebrow hair removal mistakes with brow powders or eye shadow. Brow powders are sold in many different shades so you can easily match your eyebrow colour and include an application brush that helps ensure even, more natural coverage. To apply, load the applicator brush with the powder and apply to the hairless area using soft, short strokes.
To get the most natural look begin applying the powder where there is existing hair and then move out to the thinner areas. Do not apply the powder any farther out from the brow than one-quarter of an inch. Going any further from the existing hair will look unnatural and draw attention to instead of away from the missing area of hair. If you do not have brow powder you can use an eye shadow shade that closely matches your natural brow colour and a stiff applicator brush in order to achieve similar results.
Another option for fixing missing eyebrow hair is the application of brow gel. The gel allows for a thicker application, which more closely resembles the shape and texture of your natural brow hair. However, application can be tricky and sometimes results in a clumped, too thick look that appears artificial. To get the most natural look use the same short, quick strokes that you would use when applying powder or pencil. The difference is that you will not be applying the gel directly to the skin. To cover bald or thin areas with this technique you will concentrate on making the existing hairs thicker and longer so that they lie over the problem spot.
Although each of these techniques can be used alone to fix an over-plucking mistake, you can get the best, most natural results by using a combination of all three. Eyebrow kits are available anywhere you can buy makeup and are relatively inexpensive. Each kit contains brow powder, brow gel, and an application brush. Some kits also include a brow pencil and an application stencil. To use an eyebrow kit start with the stencil to determine the exact areas that you need to apply the makeup. Next, using the pencil fill in the area with short, quick strokes, Use the powder to fill in between the pencil marks and soften the look. Finally, use the gel to thicken the hair around the thin spot and hold the look in place.
Rectifying Eyebrow Hair Removal Mistakes with Professional Services
If the task of filling in your own eyebrows seems a bit daunting you can seek the help of a professional makeup artist. Many beauty salons offer makeup application services, which include eyebrow defining or filling. For first time application this service is a great idea. The makeup artist can show you the proper way to apply the eyebrow makeup and help you become comfortable with the techniques so that you can use them at home.
This service is also a great idea if you have a very large area of the eyebrow to fix or if you have accidentally removed the eyebrow altogether. In these extreme cases makeup artists can also apply a few fake eyebrow hairs (these resemble false eyelashes) in order to achieve a more natural look.
Finally, if you have repeatedly removed too much hair from tweezing or waxing you may find that your eyebrow hair will no longer grow back. In these cases you will need a more permanent solution to your thin eyebrow problem. Professional makeup artists can tattoo eyebrow makeup on thin or balding spots to define, shape, and fill out problem eyebrows. The results are permanent and it will be virtually impossible to change the shape of your eyebrows after you have had the eyebrow tattooing done so this option should never be chosen without a lot of consideration.
Eyebrow hair removal mistakes can be frustrating and embarrassing. Be patient, the hair will grow back in no time and with a few well-placed makeup swipes you can easily hide the mistake while you wait.
You might also like...