Thick Hair, Can it Just be Thinned?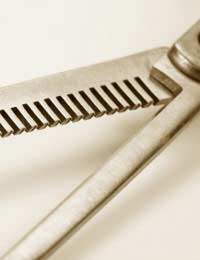 Q.
I have very thick hair on my arms, I don't want to remove it completely, but is there a cream or a technique to thin the hair?
(H.K, 30 November 2008)

A.
Thick body hair, especially if it is very dark in colour, can sometimes cause embarrassment and frustration for the individual suffering with it. For certain areas of the body, such as the legs or face, permanent hair removal is the best option. However, for the hair found on the arms thinning can be an option.
At Home Hair Thinning Options
Since you do not want to remove all of your arm hair shaving, waxing, and hair removal creams are definitely out. However, plucking is a great hair thinning option. Plucking the hair with tweezers will allow you to remove some strands while leaving others in place thus reducing the total amount of hair on your arms. If your arm hair is also long you can trim the remaining hair with scissors to further reduce the appearance of thickness.
While individually plucking each strand of unwanted arm hair is a great option it can also be extremely time consuming. Rotary epilators, also sometimes called rotary tweezers, can be the answer. These devices resemble electric razors but instead of featuring a blade they utilize one or more rows of small tweezers that grasp the hair and pull it out at the root as the tweezers spin away from the body. Rotary razors will not remove all of your hair even though you apply it to the entire skin surface because the tweezers can only grasp so many hairs at one time. Using a gentle tough and only making one pass over each section of skin should result in a thinning, not total removal, of your arm hair.
Professional Arm Hair Removal
If plucking or rotary epilators seem to time consuming you can always check out laser hair removal. In this technique a laser is directed at the hair root, which destroys it and prevents hair regrowth. Although this technique is used for total hair removal in areas such as upper lips, chins, and legs, it does not destroy every hair at all once. In order to bring about complete hair removal the technique must be repeated numerous times.
For hair thinning the technique can be used once or twice to treat individual hair roots so that some follicles are left untreated and are free to grow hair naturally resulting in a thinning of the arm hair. Because you will only be treating some hair follicles this technique will also be less time consuming and costly.
You might also like...