Effect of Laser Treatment on Skin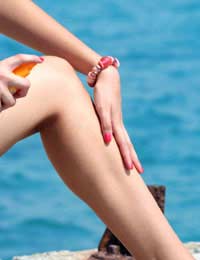 Laser hair removal can work wonders for many people for whom excessive body hair is a source of distress. But like any other treatment procedure, this method of hair removal also carries the risk of certain side-effects, although these adverse effects are extremely rare. The possible effects of laser hair removal on the skin are:
Redness and Swelling
Skin redness and swelling around the hair follicles, of a mild to moderate degree, is common in most people immediately after a laser hair removal session. However, it subsides on its own in a couple of days, in most cases. Ice compresses greatly help in early resolution of the skin redness and swelling. A warm, tingling sensation during the treatment session is felt by all patients undergoing laser hair removal.
Skin Blistering, Crusting and Scabbing
A few patients may develop blisters on their skin after laser hair removal. These blisters are temporary and resolve in a few days with proper treatment. Skin crusting is also observed in a few patients undergoing laser hair removal, for which antibiotics have been found very useful. Skin scabs, although very rare, may develop if the blisters and crusts do not heal and progress.
If you happen to develop any of these signs, you should see a skin specialist immediately for appropriate treatment and temporarily suspend your laser hair removal sessions until your specialist advises you to restart.
The development of these adverse effects on the skin depends, to a large extent, on the level of expertise of the laser professional and the degree of precaution exercised by him during the laser hair removal procedure. Therefore, it is imperative that you select the right laser professional taking into account the training, experience and standards of performance and quality adhered to by the practitioner, while making the decision.
Skin Pigment Changes
Hyperpigmentation and hypopigmentation, i.e. darkening and lightening of the skin pigment respectively, are also observed in many patients after laser hair removal. The good news is that these patches of skin lightening or darkening, usually, disappear in a few weeks to months following the laser treatment so that the skin regains its normal tone. However, in rare cases, these patches may persist permanently.
Dark skin is much more prone to develop these pigment alterations. This is because laser rays act by targeting the melanin pigment in the dark hair and if the skin is dark or tanned, the melanin in the dark skin also absorbs the laser energy and undergoes skin depigmentation or lightening and in some cases, skin darkening. Hyperpigmentation following laser hair removal has greater chances of resolving than hypopigmentation.
Other Effects of Laser Hair Removal on Skin
Excess laser energy absorbed by the skin can even lead to skin burns in rare cases. The risk of developing skin burns depends on the wavelength of laser energy used, appropriate control of the intensity of the laser beam and whether the patient is a suitable candidate for laser hair removal using that particular type of laser. Scarring of the skin, though rare, may occur as one of the consequences of skin burn or infection.
Care and Caution to Prevent Skin Damage from Laser
Avoiding direct sun rays, for a few days at least, after your laser session is one of the steps necessary to ward off any skin damage. You must wear a good protective sunscreen with a SPF of 30 or more, whenever you venture out in the direct sunlight, even after a few days of treatment.
If you have a previous history of cold sores (herpes simplex) infection, you must inform your doctor about it so that he can assess the condition and prescribe antiviral medications to take before undergoing laser hair removal.
If you have a history of other skin diseases or infections, then your doctor needs to be informed about it so that he can take the appropriate steps to ensure that the condition is not exacerbated. If you currently have a skin infection, you cannot undergo laser hair removal until you are fully treated.
Most types of laser work best for dark hair and fair skin. Newer types of laser with long wavelengths like the ND: YAG laser, Pulsed Diode Laser and Intense Pulsed Light Laser are suitable for darker skin tones too. A proper evaluation by a professional about which type of laser best suits your skin tone, is essential to prevent skin damage.
You might also like...