Why Remove Hair?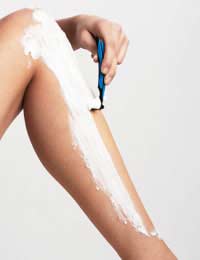 Body hair removal has a long history. It has been practised since ancient times in most civilisations of the world. People of those times removed body hair due to aesthetics, hygiene, sexual and religious reasons. In the present context, hair removal has taken a very important place among the daily rituals of women and men alike, as people are of the belief that "Even a single hair casts its shadow''(Publilius Syrus, Roman Author, 1st century B.C.), and are very meticulous about not letting hair show on their body. A hairless face and body is considered a sign of being well-groomed. People have become more conscious of their appearance and no one can deny that a smooth, hairless skin is one of most-desired attributes today. The trend is catching among men too, with more and more men opting for the clean, hairless look.
Reasons for Hair Removal
Behind this burgeoning trend of hair-removal, lie several reasons:
Increased Attractiveness and Self-Esteem
A person, particularly a woman, with a smooth, hairless body is considered much more attractive and consequently, has an enhanced self-esteem and confidence, and feels good about herself. And surely, nothing can beat the feel and sensation of your silky, smooth hairless skin!
Reasons of Hygiene
With regards to hair in some areas like the armpits, it favours the growth of micro-organisms which produce an unpleasant body odour while increasing the chances of infection, if not cleaned regularly. So, it makes good sense to remove these unwanted hairs from the underarms for aesthetic and hygienic reasons.
Adhering to the Accepted Norms of Femininity
Any woman, who has body hair greater than what is considered normal for women in our society, may have to face embarrassment or distress, leading to low self-worth. Hair on a woman's body is considered unattractive and in some cultures, even repulsive. This causes women to try to match themselves to the ideal of beauty and attractiveness. For women, lack of body hair is what is considered feminine. A smooth, hairless body is so much associated with femininity and womanliness that hair removal among females in most cultures has become a norm nowadays.
Sexual Reasons
Hair in the pubic area is removed for sexual and hygienic reasons. Pubic hair removal provides the genital area greater exposure, enhancing sensitivity and also facilitating cleanliness.
Reasons for Hair Removal in Men:
Nowadays, body hair removal is no longer the sole domain of women. Men have jumped on the bandwagon too. Gone are the days when having more body hair was considered manlier! More and more men today are becoming interested in getting their body hair removed. There are several reasons for men to opt for hair removal:
Having significant hair on the body does not help in attracting women for a potential relationship, as the large majority of women prefer partners with less body hair. So, if you happen to be single, growing older and still unsuccessful in finding the partner you like, you might consider body hair removal as excess body hair might be hindering you in your love life, although we do agree that appearances should not matter that much, but, they do!
If you are married and have excessive hair on your body, you might still want to go for hair removal to please your partner as few women like the notion of a partner with a hairy, bear-like body and would much rather prefer a hairless one.

Again, an improved sense of hygiene is also a factor for men to undergo hair removal.
Hair Removal due to Occupational Reasons
Sportspersons participating in competitions may need to remove their body hair for aesthetic and aerodynamic reasons. Swimmers, cyclists and other athletes actually report increased agility in their sport, with body hair removed. In certain occupations like acting and modeling also, it would be deemed necessary for men to get rid of their body hair and sport a hair-free look.
Thus, hair removal is the trend ruling the world now. And, many would agree that it does greatly enhance your looks, beauty, attractiveness and also the list of your admirers, besides pleasing your partner if you are in a relationship. So, why not go for it? Unless you want to be left behind!
You might also like...