How to Groom Sideburns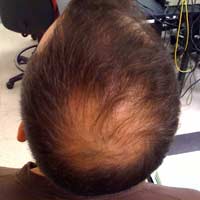 During the 1960s, facial hair was frowned upon by many people as it signified that the wearer advocated free love and a liberal attitude toward life. These days, many men sport facial hair without worrying about what it may or may not signify, seeing it simply as a style statement.
For men who want to steer clear of beards and moustaches but still want a bit of facial hair, the best way to go might be to sport a pair of well-groomed sideburns. While some men wear them to connect up a beard and/or moustache, others wear them completely on their own.
Top 5 Steps to a Good Trim
The key to having good-looking sideburns, no matter what style you choose, is to have them well-trimmed. Here's a quick guide to getting the look you want:
Always comb your sideburns in a downward motion, generally in the direction of hair growth. Make sure they are even with each other, not with your ears (which are often unevenly placed).
When combing forward, trim off hairs that extend beyond the natural hairline of your head. Use an electric trimmer to do this, or the trimmer part of your regular electric shaver, making sure that the trimmer guard attachment is turned on.
Always check to make sure your sideburns are even after trimming, and if not, even them up.
Finish off your grooming by pressing the trimmer at the bottom edge of the sideburn to make a clean, crisp line. If you make an enormous mistake, it's better to shave them off and let them grow back than to walk around with hugely asymmetrical sideburns.
If you must, you can forsake a trimmer and use a pair of scissors and a comb instead, but this probably won't give you the look you want.
Sideburn Styles
Sideburns follow the natural pattern of hair growth on your face, but you can trim them into any shape or pattern your growth pattern will allow. Usually a short haircut means shorter sideburns while a longer cut means longer ones, but that's not always the case.
Some unusual types of sideburns include:
Mutton chops. Fancy a big old pair of mutton chops? We're not talking about dinner options, we're talking about sideburns. They are usually narrow at the temples, then grow out wider toward the jaw line.
Friendly mutton chops. When mutton chops grow across the face to connect to the moustache on both sides. In this case, obviously, there is no beard.
Honest Abe sideburns. This is when your sideburns grow naturally into your beard, but without a moustache. Named after the world-famous U.S. president, Abraham Lincoln.
Bushy Side Whiskers. This is when you allow your sideburns to grow unimpeded, without trimming or shaving. In fact, some people say the term "sideburn" originated from this style, made famous by U.S. Civil War General Ambrose Burnside in the mid-1800s.
Note: Some men choose to have longer sideburns in an attempt to look younger (think actor Charlie Sheen, or Elvis in his later years). The rationale behind this might be that some sideburns, when trimmed in a certain way, can make the face look thinner and therefore younger.
Keeping Things Neat
Sporting a set of well-groomed sideburns is a must for men who want to appear professional and well-coiffed. Sideburns can come in all lengths and styles, and it's important to consider your haircut when deciding which type of sideburns is most flattering for you.
Keep in mind that having the right tools is the key to success when trimming sideburns neatly, and that an electric trimmer will have a guard preventing you from cutting off half a sideburn by accident, giving you complete peace of mind.
You might also like...