Shaving Your Head Properly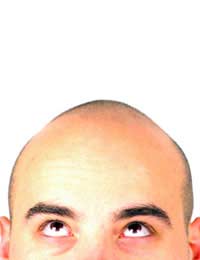 For many men who are going bald, the key to looking good is to shave their head. Sporting a Donald Trump-style comb-over or having wispy strands of hair protruding from a bald patch looks tacky, and it's much more fashionable these days to shave it all off.
Shaving your head properly, however, can be tricky. The key is to maintain a smooth, sleek look, avoiding the nicks and scratches that can make your scalp irritated and look bad. But how do you get that perfect sheen?
Steps to a Great Shave
Here are some tips to getting the look you want:
Trim your hair to stubble. The best way to do this is to use a pair of electric clippers or trimmers. Begin with the nape of your neck, then move in rows over your scalp towards the front.
Take a shower. Having warm stubble makes it more pliant and easier to cut, and will also make your scalp more resistant to both ingrown hairs and razor bumps
Use the right lubricant. Your best bet is to purchase a shaving oil or gel, and rub it in well.
Using a bladed razor, shave against the direction your hair grows for the best results, although this can cause irritation in very sensitive skin. If you shave the other way, the results won't be as good but your skin will feel less irritated.
Start shaving hair that is softer first, saving the more coarse bits for last. If you have to shave over an area more than once, you'll be more prone to irritation.
Do's and Don'ts
Many men believe that shaving their head is something they can do in a few minutes every morning as part of their daily grooming routine. That may be true, but to get to the point where shaving is that quick takes time and practice.
Here are a few do's and don'ts to help make that routine even easier…
DO invest in a decent pair of clippers, as well as a bladed razor and a decent lubricant.
DO enlist the help of a friend the first few times you shave. It will be hard to see the back of your head in particular, and you may need that extra pair of eyes to make sure you're doing things right.
DO make sure that you shave in an area that is well-lit. If you cannot see what you are doing, the result can be catastrophic.
DON'T ever shave your head dry. Even if it looks okay when you're done, within just a few days you'll have lots of ingrown hairs. If you don't have the time for a proper shave, don't do it.
DON'T forget to shave areas that are not immediately visible to you, which is why using a mirror is important. Make sure you shave all obvious areas, as well as behind your ears, the back of your head etc.
DON'T panic if you don't have a gel on hand. Shampoo or conditioner will work, but don't use them daily – only in a pinch.
For most men, the main problem with shaving their head is dealing with ingrown hairs. If you develop any ingrown hairs yourself, they can be dealt with fairly easily.
Steam your skin with a hot cloth, then use a loofah sponge or the equivalent to exfoliate the area, then shave it. For ingrown hairs that are difficult to budge, you may need to use a pair of sterilised tweezers (use rubbing alcohol) to pull them out.
If the problem is severe - meaning if you have many ingrown hairs, or if you get them regularly - you may need to see a beautician or dermatologist to clear up the problem for you. The solution might be as simple as changing razors, or you night need to decide whether continuing to shave your head is really a realistic option for you.
Shaving your head is easy – once you know how. Once you get over the fear of cutting yourself, it shouldn't be problematic at all. It might take some time to adjust to your new look, but it will certainly look better than that old comb-over did!
You might also like...