Using Electric Trimmers to Stay Groomed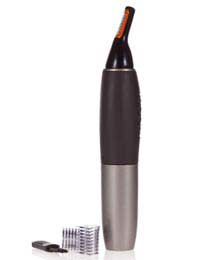 Many men rely on the use of hair trimmers to look well-groomed. Using hair trimmers to clip your own hair or tidy up your beard or moustache is quick and easy, and it also saves money, compared to expensive salon costs.
The nice thing about using hair trimmers or clippers is that once you understand how they work, it's a doddle. That's because they can be adjusted, using the size guards, to cut your hair to one specific length. Adjusting the blades will allow you to trim your hair to whatever length you desire.
Give Yourself a Haircut
With practice, giving yourself a DIY electric trimmer haircut can work out well, but don't try it the first time right before a big date. It can take several trial runs at least to learn how to use trimmers well, and you definitely need to invest not only in a good quality set of trimmers or clippers, but two mirrors as well.
Read the manufacturer's instructions carefully, then set the trimmers to the length you want or use spacers for an even cut. Alternatively, you can use a comb and do your haircut manually, which can be more labour-intensive as you will have to measure the excess hair length with the comb, then use the trimmers to cut it off.
When you are finished, you might want to use a razor to cut areas you have missed, to give yourself a clean appearance. Some men, however, prefer a bit of stubble for that rugged look. When you are done, use your two mirrors to inspect your handywork and see if you have missed any bits.
Trimming Sideburns
Electric trimmers are perfect for trimming sideburns, giving you a sharp, clean angle that looks like you had it done professionally. Most grow downwards, so after you comb them you should trim them in a downward motion.
Never cut them higher than where your ear is attached to your head, as you'll look silly. And remember that some sideburn is always preferable to no sideburn at all.
Remember also that everyone has ears that are a bit lopsided or asymmetrical, so if you trim your sideburns based on the exact location of your ears, you may end up looking more off balance than you did in the first place. Sideburn rulers are largely a fad, and are unnecessary for most men.
Trimming a Beard
Trimming your beard is child's play – as long as you play by the rules. Shampoo your beard first, and then dry it thoroughly. If you trim it while wet, it might be shorter than you anticipated when you are finished.
Carefully hold your beard hair with one hand, then move the trimmers alongside underneath to get the length you desire. This might seem a bit tricky in the beginning, but it gets a lot easier with practice. Set your trimmers on a longer setting the first time so you can trim mistakes.
The most difficult but will be making sure you beard is symmetrical. To accomplish this, trim one side straight down beginning from your ear, then the other. Keep in mind that upkeep is important, and that you still want to visit a barber twice a year to keep the shape.
Smaller, more intricate hair trimmers are also available to trim nose and ear hair, and some men use hair trimmers to keep their chest hair sparse. For the man who wants to maintain a well-groomed appearance, the possibilities are endless.
Cleaning Your Trimmer
Cleaning your electric trimmer regularly will help it working better for longer. If you choose to buy a more expensive type of clipper, then regular maintenance will prolong its life for years to come. Follow these steps:
Take a Phillips screwdriver to loosen the screws holding the metal guard of the trimmer in place.
Next, take off the top plate and the actual blade of the trimmer.
When that is removed, take a brush or a blow dryer to get the excess hair out from the trimmer.
When all the hair is gone, you might want to use a spray disinfectant to clean out the trimmer, then replace the blade and the guard.
Use clipper oil to lubricate the trimmer once it is clean, as that will also help keep it working well.
Once you are done lubricating the trimmer, tighten the whole thing back up again the way it originally was.
Trimmers are a great way to tidy up your hair in between major hair-cuts, and they work well when it comes to trimming beards, sideburns and moustaches. For men who want to a have tidy, well-groomed appearance, purchasing in a pair of good quality hair trimmers is a worthwhile investment.
You might also like...