What is Manscaping?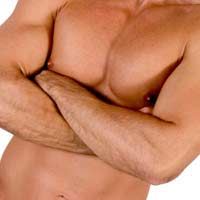 Just a decade ago, the sight of a hairy male back was commonplace at beaches worldwide, causing horror and disgust in many male and female beachgoers alike.
Not any more – thanks to manscaping.
Manscaping, or the removal of hair from virtually all parts of the male body, is becoming increasingly common amongst men interested in all aspects of male grooming, both gay and straight.
For many men, an integral part of their regular grooming routine involves regular manscaping, which extends to cover not only the chest, back, arms and legs, but the penis and testicle areas as well.
If it sounds a bit odd, there's no reason it should – unless you choose not to manscape safely. Armed with the right tips and tools, being smooth and hairless really can be child's play!
Advantages of Manscaping
Advocates of manscaping say the aesthetic benefits of male body hair removal are not the only ones. Other benefits include:
To show off muscle tone. Definition is much more visible when there is no excess hair obstructing the view.
To improve performance in sports, especially to increase speed. Ever wondered why professional male swimmers shave their heads – and legs?
To increase levels of hygiene. Too much hair down there can increase the likelihood of germs congregating, which can cause infection or just be unpleasant.
To make one's manhood appear larger. You want to be able to see the forest through the trees, so to speak.
Tips and Tools for a Safe Shave Down Below
If you fancy a bit of manscaping yourself - or if you want to your man to be as hairless as the day he was born – then play it safe. Follow these top tips for best results:
First of all, invest in a proper razor – some say an electric razor with a safety guard is best to trim anywhere near the pubic area.
Take a shower, wash, then apply a hypoallergenic shaving gel to the area. Shave in the direction of hair growth, and try not to shave the same area repeatedly, as the friction can cause irritation.
Some men say that shaving their testicles is possible only when they are cold and tight, so if you can stand the cold water, then bring it on. Avoiding injuries is easier when the skin is stretched as tight as possible.
Applying talcum powder afterwards can be helpful to stop the area from itching, as can keeping shaved bits ultra-moisturised. Some men are prone to getting ingrown hairs; if this is a problem you might want to re-evaluate your manscaping plans.
Illusory Promise
Manscaping is the perfect choice for men who want to look smooth and sleek, and show off their muscles – and other bits - to the best advantage. While some men prefer a salon finish – professional waxing, in particular - there's no reason you can't safely manscape at home, with the right tools.
After all, women have been shaving their underarms, legs and pubic areas for decades, both to feel better about themselves and attract the opposite sex. If they can do it, why can't you guys?
Remember, however, that while manscaping can provide the illusion that you're better endowed than you actually are, it's just an illusion. And if you shave your biceps to show off your (non-existent) musculature, you might wish you hadn't...
You might also like...