Waxing Your Genital Area Tips for Men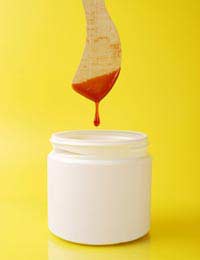 Okay, let's get one thing straight: waxing hurts. But if you want to get rid of hair in those private areas, it's also one of the best hair removal methods around.
Waxing is a relatively simple method of hair removal that involves heating up wax to a specific temperature, applying a thin layer on the body in the direction of hair growth, then pulling it off using a strip of cloth. As the hair is pulled out from the roots, regrowth is slow.
Most men find that waxing does not encourage ingrown hairs, like shaving can, and the results can last for weeks. Also, some guys start to itch within just a few days of shaving, which is both unpleasant and embarrassing.
Men wax their genital area for a variety of reasons, either for cleaner hygiene, to look better in a tight-fitting swimming costume, or to please themselves or a partner. It's worth noting that waxing is popular amongst both heterosexual and homosexual men – basically, any man who wants to look clean, sleek and smooth.
Salon Waxing
Some men are happy to get a salon wax, others find it too embarrassing to contemplate. One happy medium is to get a professional to come directly to your home to perform a salon treatment with an at-home aesthetician.
It's worth noting that only the area around and above the base of the penis will get waxed, not the actual crown jewels themselves. Waxing the scrotum is something you will have to do yourself, as pulling the skin area tight to achieve the best results is tricky, and not something a salon employee will revel in.
The exception to this is the male Brazilian, which is rare but becoming more popular. Don't just assume that any salon will do this – if that's what you have in mind, ask the salon beforehand, and make sure they really know what they're doing before they begin.
Also, if you do opt for visiting a salon, keep in mind that your hair will have to be at least one-eighth of an inch long for it to be waxed efficiently. And if it's too long, the aesthetician will have to trim it with scissors first.
DIY Waxing
Do-it-yourself waxing is preferable for men who don't like showing their pubic region in public, or for those who simply want the convenience and affordability a home wax can supply.
Home waxing kits are easily available, so it's literally a case of following the instructions on the back of the box. These top tips, however, can help make your waxing experience a more pleasurable one, and help you to avoid unsightly mistakes:
Test a small area of skin at least 24 hours beforehand to make sure you don't have an allergic reaction to the wax.
Don't take a shower beforehand, as wet hair absorbs wax less easily.
Heat the wax to the required temperature, but don't overheat. Always feel with your fingers first to avoid burning, and remember that your hands will be less sensitive to heat than other parts of your body.
When you are actually waxing, make sure you pull back, rather than up.
Don't wear tight clothing afterwards, and take an over-the-counter pain reliever if it hurts. You can also buy a numbing gel from the pharmacist beforehand if needed.
The position you will want to adopt whilst waxing is up to you. Some men like to sit in a chair with their legs up, others prefer to lie on their back with their legs spread out, so that the skin is pulled taut at all times. You can also squat with your knees bent and a mirror placed on the floor for maximum visibility.
Other Methods to Remove Hair Down There
Several other methods are available to remove hair in the genital area, but hair regrowth is a lot quicker than it is with waxing. The best methods are sugaring and shaving.
If you choose to shave make sure you don't use a switch razor, which can be dangerous. The best razor to use is a woman's razor, which is designed to make it difficult to cut yourself. Trim hair to about a quarter of an inch with scissors before you begin.
Sugaring is a lot like waxing, only you use a combination of sugar, water and lemon juice to get rid of hair, instead of wax. The paste does not get as hot as wax does, and therefore there is no risk of burning yourself.
Waxing your genital area is a way to make yourself feel clean and smooth, and for many these days it's all part of their normal grooming routine. If you are a genital waxing virgin, having a professional salon wax may be preferable to trying out a DIY kit at home for the first time. Good luck!
You might also like...