How to Choose a Razor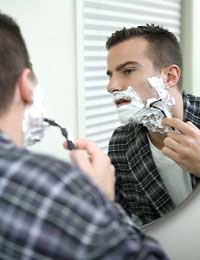 If you have chosen shaving as your preferred method of hair removal you will need a good razor. Razors come in many different styles to fit different needs. While all razors have benefits the key to choosing the right razor knows which type would best meet your particular needs.
What to Look for in the Perfect Razor
When choosing a razor for hair removal every one is looking for three key necessities: a close shave minimal skin irritation and ease of use. After that, any added features are a bonus and their usefulness will depend on personal preference.
If you are a very experienced shaver you can get the closest, longest lasting shave, from a straight razor. These are the blades seen and used at the barber. They definitely deliver a close shave without added skin irritation but they are hard to control and can easily result in nicks and cuts if used improperly.
If you are not quite ready to go for the straight blade any of the traditional razors on the market are good second choices. These razors feature one or more blades to give you a close shave and are much easier to control. The razors that feature two to five blades claim to give a closer shave since each subsequent blade can "catch" the hair a little lower each time until the last blade is actually cutting just below the surface of the skin. This claim is true for some shavers while others do not actually see or feel a difference. The only way to know if a multi-blade razor is right for you is to use it a few times and gauge your experience.
One problem with multi-blade razors is that they are harder to control than their single blade counterparts. More blades usually means a bigger shaving surface and this can make it tough to maneuver the blades around nooks and crannies as you shave. Another problem with these razors is the increased risk of skin irritation. More blades moving over the skin means more friction and a greater chance of developing razor burn.
If you are looking for a razor that gives an adequate shave with little or no chance of causing razor burn or shaving nicks, you may want to go with an electric razor. These razors are easy to use, easier to control, and feature blades that will not readily cut the skin. However, since their shape is not as confirming to the skin, these razors can leave stubble behind on more curvy areas like the chin and jaw line.
Another option is you are trying to avoid razor burn or shaving nicks, is a disposable razor. Since most irritation and cuts are caused by the use of a dulling blade, disposable razors reduce this risk by giving you the opportunity to use a new, sharp blade every time. These razors are also inexpensive, easy to control, and come in a variety of options that can enhance your shaving experience.
Choosing a Razor
Once you know what basic things to look for in a razor it is time to contemplate the extras. Both disposable and traditional razors are available with many different options. These razors can feature safety blades (for those new to shaving or with an unsteady hand) that reduce the chances of shaving nicks. Or you can choose a razor with a lubrication strip that helps soften the hair for easier cutting while conditioning the skin to decrease the development of razor burn.
The other big difference in razors is seen in their handle design. Non-slip grips, ergonomically correct shapes, longer or shorter designs, plastic, rubber, or metal materials, and colour are all used to create a unique handle style. This is another area where personal preference plays a part and the only way to know what style of handle you like is try a variety of designs. In short, heavier handles are easier to control, rubber or cushioned handles are more comfortable, and longer designs are easier to hang onto in the shower when conditions are wet.
How you shave, and what device you use to accomplish the act, is a personal decision. What works for one individual may not work for another. By investing some time in to choosing a good razor you can ensure a closer, cleaner, more comfortable shave in the future.
You might also like...