Impact of Shaving on the Skin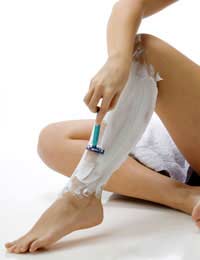 Shaving is a very convenient hair removal method with minimal adverse effects. The possible adverse effects on skin are fortunately temporary and mostly mild. No major permanent changes in skin have been noted following repeated shaving. Some of the skin problems that can occur due to shaving are:
Nicks and Cuts
Cuts nicks and abrasions are the most frequent mishaps that everyone encounters during shaving. These occur most commonly due to an inaccurate shaving technique like pressing the razor blade too hard or too close against the skin or due to an improper blade. A nick or a cut in the skin may bleed for minutes. In this case, application of an after-shave lotion or holding a clean tissue firmly over the cut can stop the bleeding. Styptic pencils are also available to counter the bleeding occurring from cuts. Persons with a bleeding disorder should avoid shaving due to the frequent occurrence of cuts while shaving.
Skin Dryness and Coarseness
The problem of dry skin may occur in some people with repeated shaving. A good moisturizing lotion or an aloe vera gel should be regularly used as it would prevent dryness, provide nourishment to the skin and help retain its moisture content and elasticity. Some people report a coarser skin after years of shaving; however, there is no direct evidence to support this claim.
Skin Irritation and Itching
Skin irritation and itching may occur after shaving, and is evidently, due to a sharp blade being moved against the skin. It can be further compounded by the problem of skin dryness that is frequent after shaving. Proper skin care, including the use of good quality, non-perfume moisturizing lotions and avoidance of products that cause skin dryness, is necessary to avoid and manage these skin problems.
Red, Blotchy Skin
Do away with your dull shaving blade and treat yourself to a new sharper one as a dull blade can cause red and blotchy skin.
Folliculitis or Barber's Rash
This is an infection of the hair follicles causing red, painful blisters that may contain pus. It is treated by antibiotics under the care and supervision of a doctor.
Razor Bumps
Razor bumps or pseudofolliculitis barbae, are reddish, raised, painful areas on the skin, that commonly occur in people of African descent with curly hair, who shave. These areas are prone to infection. Hair sometimes curls back into the skin after growing normally for a distance, thus, leading to razor bumps. Razor bumps can be prevented by avoiding too close a shave and not stretching the skin too tightly during shaving. If razor bumps frequently occur and persist, you should see a skin specialist for the appropriate medications and to avoid complications.
The problem of ingrown hair may also occur, due to a very close shave or on using the wrong shaving technique. It can lead to skin infection and even scarring, if measures are not taken for appropriate treatment and prevention.Serious skin problems are rare with shaving and can be prevented by a proper shaving technique, good skin care and prompt treatment of any skin problem, if it occurs.
You might also like...