Benefits of Shaving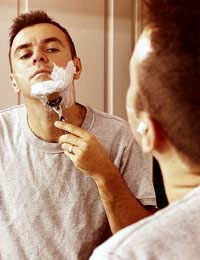 The famous comedian Mitch Hedberg once said "Every time I go and shave, I assume there's someone else on the planet shaving. So I say, 'I'm gonna go shave, too.''' From this statement, you can easily imagine how common it is to shave. For the lives of most men and many women too, shaving has assumed the importance of a daily chore just like taking a bath. Needless to say, shaving has a great many advantages over all other methods of hair removal, which make it so commonly and routinely practiced.
Let us discuss some of the major benefits of shaving.
Very Fast Way to a Hairless Body
Shaving is one of the fastest methods of removing hair anywhere on your body. All you need to do is to wet the hairy part, apply some shaving gel and start shaving with your razor. You can shave your 'hairy legs' to get 'lovely legs' in just 10-15 minutes, and the same can be done for smaller body parts like underarms in just a couple of minutes.
Painless
Shaving is, for the most part, painless, unless you happen to cut yourself. Shaving is a boon to mankind (and womankind too!) when you think of the pain that one has to go through, during waxing, plucking, epilating or threading, even the thoughts of which make you wince.
Convenient and Easy
Shaving is the only way to remove body hair, which you can do at any time, anywhere. The biggest benefit is you can do it yourself, in the convenience of your own home, without having to go to a beauty parlour for it. You do not need any special equipment for shaving other than your shaving gel, razor, soap and water. If you use an electric shaver, you don't need anything else. And shaving does not create any mess which would be difficult to clean. This is what makes shaving so easy and convenient to do everyday.
Extremely Effective for Removing All Kinds of Hair
Shaving is very effective for removing all kinds of hair from the body, be it fine, coarse, thick or long, without having to endure more pain for removing thicker and coarser hair, as in electrolysis, waxing, threading, etc. Shaving can remove even very fine or short hair that has just begun to grow. Thus, shaving can give you a very clean, well-groomed, smooth and hairless look if you do it regularly.
Cheap
Shaving is one of the cheapest and most easily affordable methods to remove body hair. You get to save on the costly services of a beautician, and also on costly depilatory creams, wax kits, etc.
No Risk of Severe Side Effects
Shaving normally has no risk of severe side-effects like skin burns, scarring, pigmentation problems, blisters, scabs or any kind of skin damage which can occur with laser, electrolysis or hair removing creams. Even minor problems like skin redness and swelling, which occur with many of the temporary methods of hair removal, do not occur with shaving. Thus, it can be considered one of the safest ways to remove body hair. However, with an improper technique or razor, you do run the risk of giving your skin cuts and gashes, although the chances of cuts can be minimised with the use of an electric shaver.
Shaving is an extremely popular way to remove body hair and will remain so for many years to come.
You might also like...
Shaving is fine, but the problem is that the hair grows back quickly and tends to be stubbly when it returns. That's fine on a man's face, but it's not what a woman wants. Other than the face, waxing probably offers more advantages, and certainly lasts longer between applications, whilst creams are just as effective and last even longer. And the new fashion for stubbly faces shows that even men aren't big shaving fans!
Mary
- 23-Jun-12 @ 6:31 AM