Problems with Shaving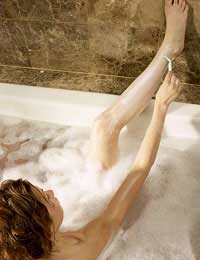 Everyone who shaves has cut themselves occasionally. But there are more serious problems that can occur with shaving that require more attention and care.
The most frequent problems that occur with shaving are reddish bumps known as razor bumps, ingrown hairs, skin irritation and itching.
Ingrown Hairs
The problem of ingrown hairs with shaving is less frequent than with waxing, but the mechanism is the same. Ingrown hairs occur when the hair is cut too short, below the skin surface. Ingrown hairs can be painful, look ugly and can even lead to scarring at times.
The good news is that they can be mostly avoided by a proper shaving technique, specifically, by not stretching the skin tight while shaving and avoiding too close a shave. A topical Vitamin A ointment can reduce the condition of ingrown hair by acting as an exfoliating agent.
Razor Bumps
Razor bumps, also known as pseudofolliculitis barbae in medical terms, are reddish or dark-coloured, painful, raised areas especially common with curly hair. These hairs, after growing a little above the skin, have a tendency to curl and grow back into the skin. This leads to reddish, swollen areas, which can even become infected. This condition is extremely common in people of African descent, who have curly hair.
Folliculitis or Barber's Rash
This is an infection of the hair follicles, particularly of the facial hair. In this, a person develops red, painful and pus-filled blisters due to an infection of the hair follicles. Barber's rash is treated with antibiotics.
How to Avoid Shaving Problems?
To avoid the problems associated with shaving, it is imperative that the proper technique be followed for shaving.
The first thing you should keep in mind while shaving is that the skin should be wet so that the hair can be removed by a smooth movement of the razor blade without any friction, so that there is no danger of razor burns.
Shaving should always be done in the direction of hair growth.
A shaving cream, gel or soap should be used prior to shaving, to lubricate and moisten the skin and facilitate an easier shave. Needless to say, the equipment used for shaving should always be clean and blades should be changed regularly. Avoid using a dull shaving blade as it can leave your skin red and blotchy while giving an imperfect shave.
Stretching the skin while shaving is not advised as it can remove even those hairs which have not fully risen above the skin surface, thereby increasing the chances of ingrown hairs.

Only light pressure should be used while moving the razor and it should never be pushed too hard.
One should not attempt a very close shave as this has a propensity to cause ingrown hairs.
If you develop any cuts or abrasions during shaving, you should press the area with a clean tissue to stop the bleeding and apply a good aftershave lotion.
Shaving is an art, which requires knowledge of the technique and practice, to achieve perfection. In most cases, the problems with shaving go away with the adoption of a proper shaving technique. But, if the problems still persist, you may need to see a skin specialist who will give the appropriate medication and advice.
You might also like...