Benefits of Electrolysis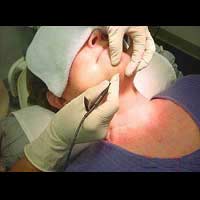 Electrolysis is the only medically approved method of permanent hair-removal that has withstood the test of time and proven its efficacy over the last 130 years. The many advantages which make it so promising are:
Only Proven Method of Permanent Hair Removal
The greatest benefit of electrolysis is that it removes hair permanently. Electrolysis is the only method which has been documented to remove body hair permanently. All other methods of hair-removal, even laser, can only remove body hair temporarily. So after electrolysis, there is no hair to remove from that part of the body, ever again. You are just left with your lovely, hairless body and a feeling of being flawlessly beautiful and desirable. This makes electrolysis one of the greatest gifts of science to beauty.
Extremely Effective
Electrolysis has been documented to permanently and completely remove hair in around 90-93 percent of people who undergo electrolytic hair-removal. A minor percentage may experience some re-growth of hair. Since electrolysis acts by a small current passed to destroy the hair follicle completely, the destruction of the hair-follicle leaves no source to give rise to new hair.
Safe
Electrolysis is medically approved to be a safe way of permanently removing hair. In fact, it is the only method of permanent hair-removal approved by the FDA (Food and Drug Administration) and other health organisations. The only thing to take care of is to get the procedure done by a licensed, skilled and experienced electrologist.
The side-effects like skin redness and swelling usually subside in a few hours or a couple of days following the treatment. Permanent skin scarring is rare.
Cost Effective
Although individual sessions of electrolysis may seem costly, but, when compared to the fortune that people have to spend on hair-removing creams, epilators, waxing, etc. over a lifetime (not to mention the trouble one has to go through each time to remove hair), this seems trivial. You will not regret the money spent on electrolysis when you get the results.
Removes Hair Anywhere on Body
Electrolysis can be used to remove hair from any body part like eyebrows, forearms, underarms, legs and even from sensitive areas like breasts and stomach. It is best and most commonly used for removing hair from face and other small body areas however.
Special Uses
Electrolysis has certain special uses, for which it is considered to be the most preferred, effective and desired method of hair-removal, as stated below.
Electrolysis is the best method for permanent eyebrow shaping because it does not have any harmful effects on vision, unlike laser which may damage vision when acting in the vicinity of the eye. It also has a special use in treating the condition of misdirected eyelashes known as trichiasis. Another area where electrolysis is the preferred method for hair-removal is in transgender individuals as they need to remove hair permanently with minimal side-effects.
This makes electrolysis the most promising method of hair-removal for those who just cannot bear the sight of their unsightly body hair anymore. Once you get rid of body hair by electrolysis, you can safely forget (in most cases) that you had any body hair at all. Seems unbelievable? But it's true.
You might also like...
phill - Your Question:
How much would it cost to remove the hair in between my eyebrows permanently by electrolysis? please email me back
---
Our Response:
We do not email people individually unfortunately. To establish the cost of the work you're interested in, try a few beauty salons in your area.
RemovingHair
- 6-Jun-16 @ 2:42 PM
how much would it cost to remove the hair in between my eyebrows permanently by electrolysis? please email me back
phill
- 4-Jun-16 @ 9:11 PM