Problems with Electrolysis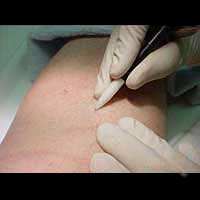 It is true that electrolysis is the only method of hair-removal that has yielded the best results over the longest period of time, in terms of removing body hair permanently. But electrolysis has some drawbacks which make electrolytic hair-removal not such an attractive choice for some people, even with its many advantages.
Some of the problems with hair removal by electrolysis are:
Painful
Most people experience some degree of pain with electrolysis, as a fine needle or probe is inserted into each hair follicle to destroy it. The degree varies depending on individual skin sensitivity, area of body being treated, personal pain threshold, and hair quality in that body area. Some people feel a mild heat sensation, and some experience a plucking or tweezing-like pain. The pain can be minimised by applying a topical anaesthetic lotion on the target area, if the person so desires.
Time-Consuming and Tedious Method of Hair-Removal
Electrolysis is the most time consuming method of hair removal. Hair removal from large body areas may take even a couple of years to be completed. Therefore, electrolysis is considered best for removing hair from smaller areas like the face, bikini line, or where they are not so dense. The time required for removing hair varies, depending on several factors like size of the area, thickness of hair, hair density, current stage of growth cycle of the hair, previous hair-removal methods used for that body area and the responsiveness of your skin to treatment.
Electrolysis typically needs a number of sessions or sittings, each lasting from 15 minutes to an hour, even for hair to be removed from a small body area. You must be aware of this fact before choosing electrolysis, that it does not yield instant results. It will require considerable patience on your part to get the results you wish for.
But, given the benefit of getting rid of the hassle of hair-removal forever, this may seem only a small amount of trouble, especially if your body hair is causing you much distress!
Skin Reaction- Redness, Swelling, Scabs, Infection, Scarring
Hair removal by electrolysis does cause minor redness, swelling, dryness, blisters or even scab formation in the skin immediately after treatment, depending on the skin sensitivity, quality of equipment used, strength of current used (high currents have a higher chance of scabs and scarring) and coarseness of hair. The skin on the upper lip and bikini line are especially sensitive. Most of this subsides and resolves on its own within the next few days, but, it may persist or worsen in a few people.
Some people may get permanent scarring or pitting of their skin after electrolysis. This is the most serious cause of concern to most people, although it is not very common.
Some people may also experience skin lightening or darkening after hair removal by electrolysis. There is no documented evidence of the relation between electrolysis and ingrown hair.
Cost of Electrolysis
Although, if compared with other hair-removal methods used over a lifetime, electrolysis is relatively less expensive, but, the affordability of the treatment may be a concern for many people due to its long duration and requirement of a number of costly sessions in continuation.
Now, armed with the knowledge about problems with electrolysis hair-removal and also its advantages, you can make an informed decision about whether this is the option you were looking for!
You might also like...