Benefits of Waxing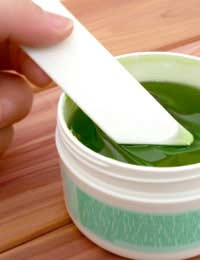 Martin Luther once said, "The hair is the richest ornament of women." How true this is for the luscious mane that crowns your lovely head, and alas, how untrue for the hair on many other parts of your body where it so dutifully abounds. This has made hair-removal a routine ceremony to be performed, especially by women and nowadays, even by men. Waxing is a very convenient, cost-effective, longer-lasting and quick method of removing this unwanted and unsightly body hair. As it removes hair directly from the roots, one does not need to worry about hair growth till at least 3-6 weeks.
Waxing can be used for removing hair from virtually any part of the body. It is most commonly used for removing hair on the arms, legs, underarms and bikini line. Other parts of body where waxing is frequently used for hair-removal are face, including upper lips, lower lips, eyebrows and chin, and the chest and back. The only areas where waxing should not be used are eyelashes and inside nose and ears. Waxing on the female and male genital organs and nipples should only be done by a qualified and trained professional as these areas are especially vulnerable.
Why Choose Waxing?
The benefits of waxing are many:
Smooth, Silky Skin that Lasts
Waxing removes hair from the root, so it takes a longer time for hair to grow again- anywhere from 3-8 weeks, depending on the individual speed of hair growth. This means your hair free, smooth skin lasts much longer and you can go for that holiday on the beach and bask in the glory of your enviably smooth and glowing skin without having to worry about body hair showing up in the meantime.
No Skin Damage
In contrast to other methods of hair removal like hair-removing creams and shaving, waxing does not cause cuts, pigmentation, or badly smelling skin. No harsh chemicals are present in wax, so, the skin is saved from their damaging effect.
Finer and Softer Body Hair
The hair that grows after waxing is of a finer and softer variety, not rough and hard as after shaving. And the really good thing is - waxing does not cause an ugly stubble as seen in just a day after shaving.
Double Function of Hair Removal and Exfoliation
Waxing leaves the skin soft, smooth and rejuvenated because it also removes a layer of dead cells from the surface of the skin, and thus, indirectly serves the function of exfoliating the skin as well.
Waxing Diminishes Hair Growth
After repeated sessions of waxing, you will notice a much sparser hair growth, and hair growth may even stop eventually. In contrast, shaving stimulates hair growth, because it removes hair at the surface only, not at the root.
Removing body hair by waxing is becoming so popular that even men are getting their bodies waxed in increasing numbers.
How is Waxing Done?
The good news is that waxing can be done at home as well as by a professional. You can master the technique by doing it yourself a few times. Just heat the wax until it is of a thick consistency and apply it thinly on the skin in the direction of hair growth. Place a cotton cloth, muslin or a paper strip over this area and press it. Finish by holding the skin taut and pulling the strip against the direction of hair growth by a swift movement of the hand. There, you have done it! The pain you feel will last only an instant and you will forget about it when you feel the pleasant sensation of your silky, smooth skin.
Care and Caution while Waxing
Do not expose yourself to direct sunlight in the 24 hours before waxing and especially in the 48 hours after it. Avoid wearing tight clothing. Also, avoid hot baths, use of fragrant creams and lotions, and especially body scrubs for the next 24 hours. Some people may get redness, bumps or skin irritation after waxing, but, it usually subsides within a few hours. If you are using Vitamin A creams or tablets like Differin, Retin A or Isoretinoin, it is strongly recommended that you do not wax, because these medications make the skin more prone to tearing when you peel off the wax. Do not wax on irritated, broken, chapped skin or on moles.
To drive the point home, if you want to enjoy the sensation, attention and admiration that a silky smooth, hairless and glowing skin inevitably attracts, waxing would be just the way to achieve it- easily, instantly and for longer. So, Ladies and Gentlemen, Happy Waxing!
You might also like...
I'm a fully qualified beautician and this information is totally misleading and is INCORRECT!! After waxing when the hair growth regrows you DO get stubble and it can damage the skin. It can leave most people with sensitive skin and can make the hair grow back darker in some cases!! As for the waxing diminishing the hair growth is totally WRONG! The hair follicle is still there which means hair still grows. Your facts aren't helping anyone thinking about waxing or looking for some useful information if anything your giving them false hope!!
courtberry
- 24-Jun-14 @ 7:48 PM
There is much misinformation on this page!Waxing absolutely does not reduce the hair growth over time!!!!!The chances of staying hair-free for 3-8 weeks is very minimal too. The people who see that type of clearance wouldn't seek waxing in the first place! Those of us of Mediterranean, Arabian, and other ethnicities who typically have dense hair growth will NOT stay clear longer than a week. Waxing DOES damage the skin, especially on the face. Facial waxers can find themselves with pitting after years of waxing. I could go on but all you need to know is waxing is not a good long-term solution for hair removal. Trust me on this, I've been there, I've been everywhere, and the only solution was finding a decent electrologist. Sure it takes time and money BUT it's the only solution. The facts support this statement and definitely do not support many of the things I've found on this website.
Lena
- 29-Jun-12 @ 2:35 PM