Problems with Waxing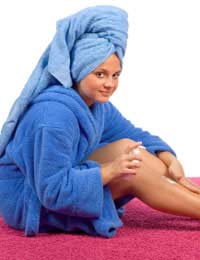 Waxing is an extensively used effective and longer-lasting method of hair-removal with numerous benefits, but, as with any other method, many people do encounter some problems with waxing.
It is quite normal to feel pain while waxing, and if the hair to be removed is long, then the pain is greater. But, some of the more serious problems experienced by some people after waxing, are:
Ingrown Hairs
Ingrown hairs after waxing are a commonly reported problem, which many people experience. Ingrown hairs can be troublesome, causing pain, tenderness, itching and even infection in some cases, and of course, looks unsightly. After hair-removal by waxing, hair follicles sometimes become irritated and dead cells accumulate in this area. If growing hairs are trapped in this accumulation, they are restrained from exiting the skin and become ingrown.
Ingrown hair can be prevented by regularly exfoliating the skin once a week after waxing, with the help of a loofah, pumice stone or other exfoliating agent applied gently on the body during a shower. It is also advisable to keep the skin moist to prevent ingrown hair.
Redness and Bumps
Most people experience some redness and bumps in the area, immediately after waxing. It usually subsides in a few hours, but, might take longer in some people. This can be managed by applying ice or cold compresses over the area for 10-15 minutes after waxing. If the redness and irritation persists for longer, you should apply calamine lotion, tea tree oil lotion, or aloe-vera gel to the affected area, all of which have a soothing and healing effect.
Reddish Brown Spots after Waxing
In people who have a very sensitive skin, waxing may cause reddish brown spots on the skin. This is post-inflammatory pigmentation, which can persist and may take time to lighten completely, anywhere from 1 week to a few months to even a year or two, depending on the individual skin type.
Folliculitis
A skin reaction called folliculitis can occur rarely, in some persons after waxing. If your skin develops large, red and painful pimples or cysts in the waxed area immediately after waxing, then, it might be folliculitis.
In this case, please do see your doctor as soon as possible, so that you can get the necessary medication, which usually is an antibiotic to clear any infection and an antihistaminic or steroid lotion to resolve the inflammation. This should subside in 3-4 days, and in this case, you will be advised not to wax again. A wrong technique or unclean equipment may also cause such a reaction.
Caution Before Waxing for the First Time
It is highly recommended that you get your first wax done by an experienced professional only, and not by yourself at home, so that the chances of skin reactions and any other problems can be minimised and effectively managed at once, if they occur.
If you are aware that you have especially sensitive skin, you should try waxing on a patch of your skin only and observe it for 24 hours for any reaction, before you try full waxing for the first time. Sometimes, skin on the arms may react differently from that on legs or any other body area, so, you can also do a patch test before trying waxing for different areas.
Applying talcum powder to the skin before waxing, especially in areas where hair are thick, helps to remove the hair more efficiently with less skin reaction. Before waxing, you should ensure that your skin is completely dry and the hair is of sufficient length, at least 1/4 of an inch.
If you have sensitive skin, you should avoid waxing on any part of your face. Women should avoid waxing during their periods as the body is especially sensitive at that time.
If you take appropriate care while waxing, we hope that you would not have any problems with waxing. But, if your skin still develops a severe reaction, it might be that your skin is simply too sensitive, not suited, or allergic to the procedure. In this case, you should visit your doctor and follow his advice.
You might also like...