Where Can Electrolysis be Used?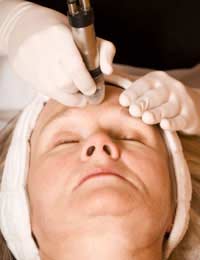 Electrolysis is the only permanent method of hair removal that has withstood the test of time and proven its efficacy in achieving a smooth hair-free skin completely and permanently. Its universal appeal lies in the fact that it is the only method of permanent hair removal which is recommended for all skin types, for removing all varieties of hair, from the majority of body parts.
Where to Use Electrolysis?
Electrolysis can be used to remove hair from any part of the body except inside nose and ears. The parts of body where electrolysis is more commonly used for hair removal are face, including eyebrows, cheeks, upper and lower lips, chin, area between the eyebrows, neck, breasts, stomach, underarms, arms, forearms, thighs, bikini line, legs and feet in women. Men usually prefer to get hair removed by electrolysis from shaggy eyebrows, part between eyebrows, outer ear and nose, nape of neck, shoulders, chest, back, forearms, underarms, and legs.
Unwanted Hair on Face
If you are a woman having conspicuous hair on the upper lip can cause low self-esteem and poor self-image. In this case electrolysis would be the ideal procedure for you, as it will permanently get rid of the unsightly hair and greatly boost your confidence and enhance your beauty. It is also an excellent method of removing other unwanted facial hair, and saves a lot of money, distress and time involved in regularly removing hair by any of the temporary methods, like waxing, bleaching and plucking.
Permanent Eyebrow Shaping
Electrolysis is a very good and safe method for permanent shaping of the eyebrows in both men and women. The use of laser in this area has a substantial risk of damage to vision, leaving electrolysis to be the preferred method of shaping eyebrows and removing excess hair from this area. Electrolysis is especially good for parts of body where a greater degree of precision is required to remove hair like in eyebrow shaping. Many men use electrolysis for shaping their beards, and even as a way of getting rid of the hassle of daily shaving.
Electrolysis for Breast and Other Sensitive Areas
You need not worry if you have hair on your breasts because electrolysis can also be very effectively used for sensitive areas like the breast in women, but, this should be done after a consultation with your physician. Electrolysis is also an effective and convenient method of getting rid of unwanted hair on the nipple, around the navel and also the bikini line, although thick and strong hair on the bikini line can make the procedure relatively painful and time-consuming. It should be kept in mind that these areas are particularly sensitive so you might experience more pain and discomfort while the procedure is being performed. You can ask your electrologist to use a topical anaesthetic on the target area before electrolysis, to lessen the pain.
Electrolysis for Other Body Hair
Although electrolysis provides total and lasting freedom from hair on arms, legs, chest, back and any other body part, you should keep in mind that, for hair removal by electrolysis- the larger the area, the more time-consuming the procedure.
Electrolysis is therefore, considered best for smaller body areas because it is a time-consuming procedure, and use for large areas such as the back would require a considerably longer duration of treatment as it involves the tedious process of removing hair one by one with the help of a fine needle inserted into the bottom of each hair-follicle.
Electrolysis for Abnormal Eyelashes
A special use of electrolysis is in treating a distressing condition of abnormal, misdirected eyelashes known as trichiasis, in which eyelashes continuously touch the eyeball, causing pain, discomfort and severe complications, thereby, requiring eyelash removal.
Electrolysis in Pregnant Women
Pregnant women should refrain from getting an electrolysis treatment for hair on their breasts, abdomen, and also genital area, particularly in the last trimester of pregnancy, as these areas are very sensitive at this time. However, they may undergo electrolysis for removing facial hair or hair from other body parts.
Electrolysis for Transgender Individuals
Electrolysis is also used as a method for removal of excessive body hair in transgender individuals.
It cannot be over-emphasised that you should undergo electrolysis only by a specially trained and experienced professional, as otherwise you could end with permanent damage and scarring of your skin.
You might also like...