All About Transdermolysis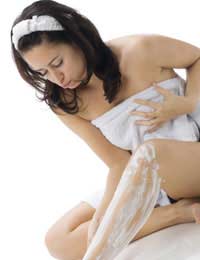 In their quest to get rid of unwanted facial and body hair, some people will try anything. Transdermolysis is one of those treatments that sounds great in theory, but in practice has mixed reviews at best.
Transdermolysis, like other similar methods, has its origin in the electric tweezer method of hair removal, but with some modifications (no tweezers, for a start!). It is popular because its manufacturers promote it as a pain-free method with no side-effects, and because it can easily be carried out at home, or with the help of a spa beautician.
Sceptics, however, say that while transdermolysis sounds wonderful, there is no clinical evidence to support claims that it really works. The good news is that when used properly, it is completely safe. So the only thing you have to lose if you try it out and find you get no results is time and money (unfortunately, not unwanted hair).
History of Transdermolysis
Also called needleless electrolysis, non-invasive electrolysis and transdermal hair removal, this treatment is just more than a decade old – and skeptics still don't believe it works.
Before it came into existence, the electric tweezers method was the most popular form of DIY hair removal using an electrical current. The idea was that electricity passed through the tweezers directly to the hair root, permanently damaging it. It was much like needle electrolysis, with the added benefit is that it was non-invasive, caused no side-effects, and was entirely painless.
However, scientists had doubts about the electric tweezer method as well, saying that the electric current could dissipate on the skin before it reached the hair, therefore having no effect on hair. Skin can conduct electricity, the laws of physics state, but hair cannot.
When electric tweezers lost popularity, the manufacturers came up with a new idea: use an electrified cotton bud instead to produce the same purported effect. This method is called transdermolysis, and is gaining in popularity, although it also has no scientific evidence to back up its claims.
How It Works
Transdermolysis is simple to use. A conductive gel is spread over the skin where the hair is, then a cotton bud is attached to the device's negative outlet, which passes DC current into the area that has been selected. To finish the circuit, the positive electrode is attached to the person having the treatment carried out, allowing the flow of electrons.
Supposedly, the electric current is strong enough that it permanently damages the hair follicle when it moves down the root of the hair, much like the electric tweezers method.
Manufacturers of transdermal products claim that the reason it works so well is because when the electric current passes through the cotton bud, it causes a chemical reaction to occur, directly within the hair follicle itself. They say it transforms the salt water naturally present into lye, or sodium hydroxide. This substance is corrosive and thus damages the follicle to stop hair growth.
Traditional Methods Might Be Best
Whatever the case, be prepared to stay out of the sun for a few days at least following this treatment. And only you will know whether the method will really result in permanent hair removal, or whether you will experience hair regrowth.
You would probably be better off sticking to a more traditional form of temporary hair removal, such as waxing, shaving and plucking. If you want permanent hair loss, a method with scientific evidence to back it up, such as laser hair removal, would no doubt be a better option. Whatever method you choose, good luck!
You might also like...