Are Photoepilators Better Than Tweezing?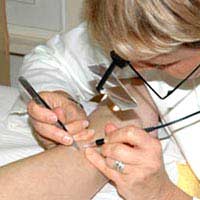 Gone are the days when people got rid of unsightly hair with a razor and some shaving cream. Instead, there are literally hundreds of different ways to remove hair, either permanently or temporarily.
A wide variety of hair removal methods are on the market today, suiting virtually every skin and hair type. No one method is perfect, however, which is why you need to pick one suited to your own particular wants and needs.
Reasonable Alternative to Lasers
One hair removal method that is becoming more an more popular is called photo epilation, which is widely seen as a reasonable alternative to the more traditional laser epilation, or using lasers to get rid of unwanted hair.
Lasers destroy actively growing hair bulbs over a period of five to 10 treatments. They work to remove hair all over the body and face, although they unfortunately cannot target and therefore remove light or gray hair.
Photo epilation, on the other hand, uses rays of light to target and destroy hairs, and the good news is that it can get rid of virtually any type of hair, no matter what colour it is. Usually, anywhere from six to eight treatments is sufficient.
How it Works
Photo epilation, which is also known as a pulsed laser, destroys the hair follicles completely, so that the hair cannot grow back. That is why it is often seen as a preferable method to tweezing, where the hair will eventually grow back.
It does this using controlled flashes or pulses of light which are emitted from a special device. The hair absorbs the light which is projected by the photo epilator, and then the heat works to destroy it.
Many people tend to confuse photo epilation with lasers. While the technique is a bit similar, the light that is being used to kill off the hair folllicle is not a laser beam.
A Word of Warning
Both laser and photo epilation carry risks for specific individuals, and although these side effects are extremely rare, they can be dangerous.
If you have specific skin diseases, including acute herpes; heart disease; varicose veins; severe hypertension or other medical conditions, talk to your GP first before having either of these treatments. Pregnant women should avoid this treatment as well.
Be aware also that photo epilators are highly unregulated, so make sure you visit a licensed professional who had carried out the procedure countless times before, to avoid injury.
You will need someone who is experienced and highly trained, who can direct the pulses of light where they need to go, and not damage any of the surrounding area. In the wrong hands, the intesnse light can easily hurt nearby skin cells, and cause burns and/or other forms of damage.
Home photo epilators are now readily available as well, although they are expensive and require a certain amount of skill for good results. If you want to invest in a home kit – which can cost hundreds of pounds - proceed with caution!
Permanent Results
Photo epilation works well for many people, especially on delicate areas such as the face – particularly the eyebrows, upper lip and the chin. With regular treatments the results can be permanent, which is why this method enjoys popularity over some temporary hair removal treatments, such as tweezing.
If you are interested in trying photo epilation yourself, make sure you are a suitable candidate without specific medical conditions (see above), and that you only visit a trained professional.
For most people, the photo epilation method of hair removal has few side effects and works well. And compared to the cost of regular waxing sessions, for example, it can actually save you money in the long run.
You might also like...