Friction Methods to Remove Fine Hair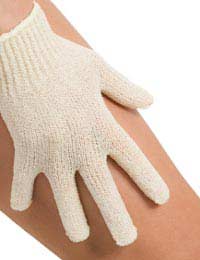 If you have smooth, fine hair on your arms and/or legs and have been seaching for a hair removal technique that requires no chemicals and is relatively cheap, the friction method might be for you. It's affordable and easy to do, although it's not suitable for every skin type.
The friction method dates back to ancient times. All it requires is a pumice stone or some other type of rough material, such as a store-bought mitt, to gently buff the hair away.
The nice thing about the friction method is that whilst you take away hair you are exfoliating your skin at the same time, making it smooth and soft. Also, hair regrowth is less – compared to shaving – as you are wearing away the hair, rather than cutting it and leaving a sharp edge.
The disadvantage is that this method does not work for everybody, and some people may even discover that afterwards their skin is irritated and chafed.
Simple Movement, Visible Results
The friction method is a relatively simple way to get rid of fine hair, particularly on the legs. Once you buy either a special mitt or a pumice stone, gently rub the area where you want the hair removed in a slow, circular motion.
Most people suggest rubbing counter-clockwise, then clockwise, in one specific area until all the hair has been removed. Move onto another area only once you are satisfied with the area at hand. Never use up and down strokes.
The hair will eventually come off, as well as dead skin cells which can make your skin look less bright than it should. When done ccorrectly only on certain parts of the body – namely the legs, and never the face – no skin irritation should develop.
It is advised that you take a warm shower and exfoliate before you try this method, to get rid of as many dead skin cells as possible before you begin.
Advantages of the Friction Method
Many people like a hair removal technique that is basic and completely chemical-free. Here are some other advantages of the friction method:
Cheap as chips – a pumice stone in particular can last years.
Convenient and private, as opposed to a salon treatment.
Handy when camping or in similar place where you may prefer not to shave.
Sharp stubble will not accompany regrowth.
Pumice stones and mitts easy to find.
Drawbacks of the Friction Method
The friction method works well for many people – but there are still some disadvantages. The most common ones are:
This hair removal method will not last long – a day or two at most.
Some hair can sometimes still be visible underneath the skin afterwards if your hair is very dark.
Only suitable for leg hair and possibly arms, as severe skin irritation can develop if you attempt the friction method on your face or bikini area.
Not really suitable for most men, as their hair is too coarse.
Regular upkeep is needed – usually daily – to retain the look.
Between Waxing and Shaving Sessions
The friction method is great for people who have fine hair and prefer a natural way to remove hair. Pumice stones and buffing mitts are widely available, while some people prefer to purchase emery boards and even fine sandpaper (not a good idea for a friction novice).
Because the effects are short-lived, however, some women only use this method between waxing and/or shaving sessions. In fact, some people find that it only works well for a few hours, which means it may not be the method of choice before a big date!
And be aware that if you have very dark hair, a pigemented area may be visible, which is sometimes referred to as a "shadow". Again, if you don't want a shadow appearing on a big night out, a different method may work better for you.
Getting a Rosy Glow
If you want to try the friction method, make sure you only use gentle, circular motions and exfoliate before you begin. Stick to the arms and legs, and stay away from the face and bikini line. And apply plenty of moisturiser when you are finished.
If you carry out this hair removal method correctly, not only will your legs and/or arms be shiny and smooth, but you will also have a rosy glow because you will also be stimulating your circulation as you buff. If the friction method is effective for you, you might really be onto a winner!
You might also like...