Do Rotary Epilators Really Remove Hair?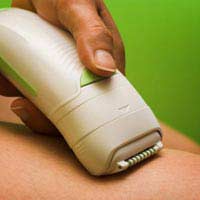 Also known as rotary tweezers, rotary epilators provide a quick method of temporary hair removal that lasts from a few days to a few weeks, depending on your personal hair regrowth.
While rotary epilators are not suitable for very sensitive areas of skin such as the face or the bikini line, they do work well on other parts of the body, particularly arms and legs, although fine hair can be difficult to remove.
The good news however, is that you can remove unwanted body hair without using any chemicals, and your skin will be a lot smoother and softer than it would be using just an ordinary razor. And if you're lucky, you'll only have to use it once or twice on a beach holiday to keep up the look!
Mechanics of Rotary Epilators
Rotary epilators look a lot like an electric shaver does, with one main difference. Instead of having a blade on the rotary head, there are two or more rows of small tweezers.
These small tweezers are very efficient, as they pull the hair out by the root, instead of just shaving it off, like a shaver would. The result, therefore, is much longer lasting than the result a razor would produce.
To achieve the best results, you have to wait until the hair is long enough to be tweezed out at the root by the electric tweezers. Pull the skin taut to avoid any of your skin being pinched. You may find an epilator hard to use on very fine hairs, and it can also be difficult to do the backs of your legs without help.
Drawbacks of Rotary Epilators
There are several potential disadvantages when using a rotary epilator, although some people will find these problems do not apply to them. They are:
They can be painful to use, although the more you use one the less painful it gets, as the follicles weaken the more they are tweezed.
Certain parts of the body are unsuitable for their use, such as the bikini line, so you may have to invest in several products to remove all your unwanted body hair
Some people report ingrown hairs when using a rotary epilator, although this usually occurs only when using one on sensitive body parts, such as the bikini line.
Getting What You Pay For
Buying a rotary epilator is a bit of an investment, as a cheap product can lead to skin irritation more easily. Expect to spend at least £60 on a good quality product, and invest in a name brand for best results. Make sure there is a manufacturer's warranty as well, just in case something goes wrong.
Buying a rotary epilator with a double set of tweezers, as opposed to a single one, is an advantage. You will only have to go over a specific area of skin once, which will cut down on skin irritation and produce better results.
You might also want to ask which rotary epilator is the quietest, as some motors make a lot of noise. If you think this will bother you, get a quieter one, which might be more expensive.
Using a rotary epilator to remove unwanted hair can make a lot of sense, as the hair will be pulled out from the follicle and the effect of slowing hair regrowth will be longer lasting than using just a razor. If you don't want to pay for costly salon treatments but still want a salon finish, a rotary epilator might be the hair removal method for you.
You might also like...
Best I have ever used is the Karmin ;)
Gina Benet
- 22-Mar-16 @ 4:16 PM