What is Transcutaneous Hair Removal?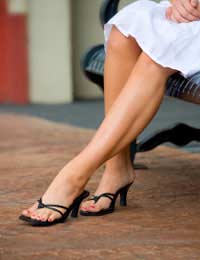 Many types of hair removal methods using electric currents are popular today, all promising to remove unwanted hair to a degree that is permanent, or virtually permanent.
Transcutaneous hair removal is the latest of these hair methods, but like many other similar methods, it lacks the scientific evidence to back it up.
In fact, some people say this hair removal system is simply a scam, something that trade shows and magazines promote heavily to often unwitting beauticians, knowing full well it doesn't really have the desired results.
How It Works
This method works through the use of conductive gel, which is rubbed on the area where the hair is to be taken off. An adhesive patch touching the gel is then applied to the skin, and an electric current is passed through it. The hair root is then, at least in theory, damaged permanently when it travels to the hair follicle.
We all know that patches can be used as a way to deliver drugs sub-dermally, such as nicotine patches and lidocaine patches, which are used to deliver the anaesthetic to children without using needles.
So the manufacturers of transcutaneous hair removal thought adhesive patches seemed like a good idea in their quest to have "non-needle electrolysis". And, according to sceptics, they went on to patent and market it -- without actually testing it.
Purported Advantages
Manufacturers of transcutaneous hair removal methods say it has several advantages of other hair removal methods, such as electrolysis and others. They say that using this method means that:
Hair removal is permanent
Process is completely painless
There are no side-effects following treatment
You will have much better results than you would with traditional electrolysis
Keep in mind that manufacturers who promote transcutaneous hair removal products are actually doing so illegally, as there is as of yet no scientific evidence to back up their efficacy. In fact, many critics claim that the manufacturers of the adhesive patch made bogus claims, in an attempt to convince potential buyers that transcutaneous hair removal is an excellent home business idea.
Potential Disadvantages
There are several disadvantages of transcutaneous hair removal, including:
No scientific evidence whatsoever to back up claims that it actually works.
Claims that it is "painless" actually point to the fact that it could not work. Any type of hair removal, including plucking and tweezing, involves some degree of pain. If there is no pain whatsoever involved, it might be because the strength of the electric current is not strong enough to have any effect at all.
Could be just a scam to get people to invest their money in a home business that will have no results.
Most people in the hair removal business say that sticking to tried-and-tested methods to get rid of unwanted hair is the best option. Those include temporary hair removal techniques such as threading, sugaring, waxing and shaving, as well as permanent hair removal techniques such as traditional electrolysis and laser hair removal.
If you want to try a different method, do so at your own risk and be prepared for the fact that it very well may not work. If you have a treatment or two and it does nothing, at worst you've lost some cash. Don't invest in these products as a business endeavour, however, until there is some solid proof that they can actually have some success!
You might also like...