Removing Body Hair by Sugaring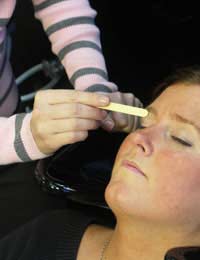 Sugaring is a hair-removal method which was formulated thousands of years ago and has been documented to be in use by even ancient civilisations such as Egyptian, Greek and Indian. Sugaring is becoming increasingly popular as more and more people all over the world are getting acquainted with the benefits of this age-old method of removing body hair.
What is Sugaring?
Sugaring is a technique of hair-removal, involving the application of a paste made of sugar, lemon and water to remove body hair.
Advantages of Sugaring
Sugaring is similar to waxing, but is less painful, easy to do at home, using natural, home-made products and is therefore a very cheap and convenient way of removing hair from anywhere on the body.
Some of the advantages include:
The sugaring paste only sticks to the hair to be removed and not to the skin, so the procedure is less painful compared to waxing.
The sugaring paste is only slightly warm, so there is less skin irritation and reaction and negligible chances of skin burning.
Sugaring involves the use of more natural ingredients, unlike wax which consists of resins and chemicals too.
Also, the sugaring paste being extremely soluble in water, any sticky mess left on the skin or elsewhere can be removed easily by soap and water!
The chances of ingrown hair are less with sugaring than with waxing.
Sugaring can be used to remove even shorter hair (1/8th of an inch or less) than can be removed by waxing.
Like waxing, the hair that grows after sugaring becomes finer and softer with time.
Where to Use Sugaring?
Sugaring can be used to remove hair from any part of the body, but is especially good for removing facial hair and hair from other sensitive areas like the bikini line because it can remove even fine hair like facial hair; it involves the use of more natural and less harmful products; and also there is less risk of skin irritation and burning, as the paste is not applied hot.
How to Prepare the Sugaring Paste?
One of the best things about sugaring is that the sugaring paste can be easily made at home using a few simple, natural ingredients. However, it may take some time before you become adept at preparing a mixture of the right consistency. If you wish, you can also buy the sugaring paste from any cosmetic shop.
The ingredients for the sugaring paste are:
2 cups white processed sugar
¼ of a cup of water
¼ of a cup of lemon juice
Mix these ingredients and heat them either in a microwave or on a stove. It is easier to do it in a microwave, but, you need to be careful not to let the mixture get overheated as it heats up faster in a microwave. Microwave it for 2-3 minutes until it acquires a smooth, thick, syrupy consistency.
If you are preparing the sugaring mix over a stove, place the mixture over medium heat and boil until it becomes brownish-yellow and acquires the same consistency as mentioned above. The sugaring paste should neither be too thin nor too thick.
Then, just leave the mixture to cool for a few minutes and, lo and behold, the sugaring paste is ready! When you want to use it, warm it up just a bit to make it easier to apply.
It is better to store the sugaring paste in a re-heatable jar for easier use again. But, don't prepare too much of the paste as it gets thicker with time, so it may not work as well if it has been kept for too long.
The Sugaring Procedure
You will need a few fine cotton or paper strips that can be made at home and are also easily available at any cosmetic shop; a spatula, dull knife or tongue depressor-kind of thing, to apply the paste.
First, apply some talcum powder over your clean and dry skin. This makes the procedure easier.
Test the temperature of the sugaring mix by applying a little over the back of your hand. It should be just warm enough to spread easily and thinly, but not burn your skin.
The spatula is used to apply the sugaring paste thinly over the hairy area in the direction of hair growth.
Now, place the strip over it and press it nicely and firmly 3-4 times. Pull the strip quickly against the direction of hair growth and the hair will come out with it.
After Sugaring
You get a soft, smooth, hairless skin as a reward for the small effort you put in. You may get some redness and bumps on your skin after sugaring, especially if the hair removed was thick and long. But, it usually resolves in a few hours, so, it is nothing to worry about. You can minimise the redness by applying some ice or cold compresses to the skin for 10-15 minutes.
So, sugaring is really a sugary…umm...sweet method to remove those not so sweet body hairs. Hope you like the taste of it!
You might also like...