Plucking Unwanted Hair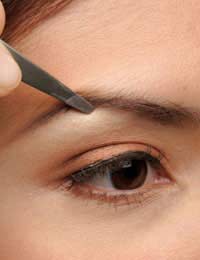 Who does not dream of those well-arched perfectly chiseled eyebrows? Plucking is a very effective and cheap way to achieve those perfect eyebrows, and can be done by a professional or even by you at home. Plucking is a commonly used method of removing extra hair from the eyebrows and other areas of body, and involves pulling hair from the root manually with the help of a metallic forcep-like instrument, which is also known as tweezers or a plucker. Plucking is a painful and time-consuming method of hair removal, hence its use is restricted to areas where only a few hair need to be removed.
Where is Plucking Used?
Plucking is most commonly used in eyebrow shaping and removing extra hair from upper and lower lips, and chin. Many people also use plucking to remove unwanted hair from other parts of the face and for touching up the results of the hair removal they have achieved by other techniques, for other parts of the body. Plucking involves removing hair one by one or a few at a time, which is time-consuming, tedious and painful, so, it is best used for removing hair from parts of body where they are not so dense and abundant.
Plucking can be done by a trained and experienced professional, although many people do it at home themselves.
Before Plucking
The first thing you require for plucking at home is good quality tweezers or pluckers. The tweezers must be sharp and pointed with a strong grip. Before and after each use, the tweezers should be thoroughly cleaned and disinfected with alcohol.
It is advisable to pluck after taking a hot bath or steam to open the clogged pores, so that hair is pulled out easily. You should not apply any cream or lotion to the target area before plucking.
The Plucking Procedure
Plucking is always done in the direction of hair growth. This helps to reduce the associated pain and achieve a better result. For effective plucking, the length of the hair must be sufficient to be grasped and pulled by tweezers. While plucking, you should stretch the skin tightly, so that hairs are easier to pluck and there is no bruising, redness or bleeding in the area. If you are plucking eyebrows, you should start from the area near the nose where the brows are thickest, and proceed outward towards the ears.
If you are plucking your eyebrows yourself, you must take care that you don't pull out too many hairs and distort their shape. After plucking a few hairs, step back and observe their shape carefully in the mirror, if you happen to pluck out too much hair from any part of the eyebrow, try filling it with an eyebrow pencil!
Plucking After-Care
Plucking may sometimes cause minor scarring of the skin, ingrown hairs and skin pitting, if an inappropriate tweezers or method is used. The plucked area may become red after plucking, but, this usually resolves within a few hours. You may apply ice or a soothing lotion to this area to minimise the discomfort. Avoid touching the area too much, as this may interfere with healing and cause an infection.
Caution while Plucking
Plucking hair from the nose and ear should be avoided. If you have a really sensitive skin, especially near the eyes, then, you might like to consider other options of eyebrow shaping, as plucking can be quite painful.
Plucking seems to be such a convenient, effective and cheap method, that both men and women resort to hair plucking quite a lot. It is the perfect hair-removal method for a groomed and stylish look, and to have people raving about 'those enchanting eyebrows'. So, who minds a little pain?
You might also like...