Products That Discourage Hair Growth-Do They Work?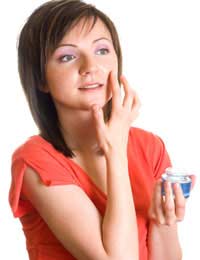 Unwanted hair, usually located on the face, arms, legs, and underarms, is a bothersome problem for many individuals. So bothersome, in fact, that many people go to great lengths to rid themselves of this unsightly hair growth. And, while shaving, waxing, electrolysis, and other hair removal methods do exist, many people are looking for a way to inhibit hair growth altogether and ban unwanted hair.
Lotions, Creams, and Deodorants that Discourage Hair Growth
Hair growth inhibiting formulations are available in moisturising lotions, medicated creams, and underarm deodorants. The lotions, sold over-the-counter as shave minimising moisturisers, are meant to be used daily to discourage hair regrowth and decrease stubble between shaves or waxes. Hair growth inhibiting deodorants are sold to discourage hair regrowth under the arms. Medicated creams, available in both prescription and over-the-counter formulas, are designed to slow the hair growth process and hold the hair follicle in a constant state of rest or dormancy.
Shave minimising lotions and hair growth inhibiting deodorants use fruit enzymes, liposomes or other chemical additives to weaken the hair follicle and slow down or stop the hair growth process. These products must be used daily in order to be effective and the results are only typically seen after weeks of use.
Medicated creams, such as the commercially popular Vaniqa, are usually targeted to inhibiting unwanted facial hair. These creams are applied at least twice per day and the active ingredient is absorbed directly into the hair follicle. The creams are designed to block the enzymes necessary for hair growth so that follicles cannot produce new hair.
Do Products that Discourage Hair Growth Really Work?
Shave minimising lotions and deodorants do work effectively for some individuals. Individuals with fine, soft, thin, or slow-growing hair will see the best results. Individuals with coarse, dark, or thick hair may see some reduction in hair growth speed but it is usually not enough to warrant decreased shaving or waxing.
Medicated creams have shown the highest levels of hair growth reduction effectiveness. These creams are specifically targeted at inhibiting facial hair and produce notable results even for individuals with coarse, dark hair.
While the hair growth inhibiting creams have been shown to be very effective they do have a few downsides to use. First, the creams must be used consistently for continuous results. Once cream usage is discontinued hair growth patterns return to normal and new hair growth is seen. Second, these creams do not remove unwanted hair that already exists so other hair removal methods are still necessary during treatment with the cream. Finally, the creams do have some side effects. Common side effects seen in users of hair growth inhibiting creams include irritation of the skin, redness, pain, burning sensations, and rash.
Who Should Use Hair Growth Inhibiting Creams and Lotions?
Anyone wanting to increase the time required between shaves is encouraged to use a shave minimising lotion or deodorant. These products are relatively safe and easy to use and come with the added bonus of moisturising the skin for better hydration. However, any individual suffering from skin abrasions, rashes, certain infections, or skin diseases, should consult with their doctor before applying these formulations.
Medicated creams, on the other hand, are not for everyone. Only individuals who have discussed their hair growth problems with a doctor and shared their pertinent medical history should use these creams. Since the drugs and chemicals in some hair growth inhibiting creams can cause unwanted side effects, or worsen other medical conditions, these creams should never be used without a doctor's consent.
You might also like...