What are Chemical Depilatories?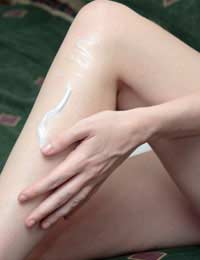 Chemical depilatories are creams, gels or lotions that contain the calcium salts of thioglycolic acid, used for removing hair from the skin surface. These compounds work by disrupting the disulfide bonds that constitute the protein, keratin of the hair shafts.
Chemical depilatories are very commonly used by women all over the world to remove body hair. They are available in cream, gel, lotion, powder and even aerosol forms, so that everyone can use the preparation that suits best. They remove hair from the surface only, and not from the roots, so their hair removing effect usually, does not last beyond 3-5 days.
Where are Chemical Depilatories Used?
Chemical depilatories are employed most frequently to remove hair from arms and legs. Other body areas where depilatory creams may be used are the underarms and the bikini line, although use for bikini line hair removal warrants extra care and should be continued only if the skin does not react adversely. It is not advisable to use chemical depilatories for frequent hair removal from the face as facial skin is extremely sensitive. These products irritate the eyes, so, they should be kept away from the eyes at all costs.
A special use of chemical depilatories exists among transplant patients who suffer from excess hair growth as a side-effect of the drug cyclosporine. Chemical depilatories are the most common way to combat this problem of post-transplant hypertrichosis or excessive hair growth, especially among paediatric patients.
Benefits of Chemical Depilatories
The greatest benefits of chemical depilatories are that they are:
easy to use; hair removal can be done at home
painless
yield extremely quick results
relatively inexpensive
All you need to do is just apply the cream or gel on the hairy area, wait for a few minutes and lo and behold all the hairs are gone and a trip to the beauty salon is saved too. The instant results are due to the strong effects of the chemical constituents in dissolving the hair shaft at the skin surface. Chemical depilatories are usually pain free, although a tingling or stinging sensation may be experienced. So, if you are worried about your unwanted hair and need to go to that party or meet your dream date urgently, using chemical depilatories can be a good option for hair removal.
Problems with Chemical Depilatories
Bad Smell
The cause of greatest worry with the use of depilatory creams or lotions is that most of them are awfully smelly! After removing hair with a depilatory cream, the target body area will smell a lot, although newer preparations are available which are scented, thereby, curtailing the bad smell problem.
Skin Irritation, Darkening, Burn and Scarring
Some people may experience skin irritation or even skin burn with the use of chemical depilatories. The skin may assume a darkish hue after use of chemical depilatories. This is usually due to the use of a depilatory which is too strong; due to incorrect quantity, procedure or duration of application of the depilatory cream; or due to a hypersensitive skin. A few people may also suffer from skin scarring as a consequence of the burns.
The reason behind these skin problems is that these products contain strong chemicals, which, besides acting on the body hair, may have some damaging effect on the skin too. Although these depilatory creams are manufactured in such a way that the strength of the chemical constituents is just optimum so that their effect on the skin is negligible, but, proper caution must be exercised by the user to apply the cream only in the required amount and manner as mentioned on the product's instructions.
Allergic Reaction
People with extremely sensitive skin may react adversely with the use of a depilatory cream. It is, therefore, strongly recommended that all first-time users should do a patch test on a small area of the skin with a depilatory cream a few hours before using it so that any hypersensitivity to the product can be noted.
Frequent Use Required
Since hairless skin lasts only a period of 2-5 days with the use of chemical depilatories, using these preparations as the sole method of hair removal demands frequent application.
To drive the point home, chemical depilatories are an extremely popular way of removing body hair, especially from arms, legs and armpits. Their affordability, ease of use and instant, pain-free action would maintain their stature as one of the powerful weapons among the hair removal brigade for a long time to come, despite some risk of skin irritation.
You might also like...